How To Clean Prawns

13 Jun 2011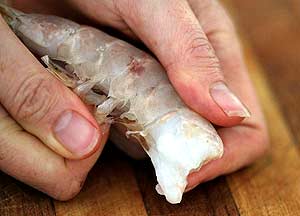 Seafood lovers would certainly benefit by learning how to clean prawns. This will not only help them prepare delectable prawn recipes at home easily, but also enable you to use fresh produce each time. Outlined below is a simple method to clean prawns and devein them, read on and learn...
Tools Needed To Clean Prawns                                                                          
Trough of cold, fresh water.
Bin for disposing of waste materials.
Clean knife
Steps To Clean Prawns at Home                                                                                    
Clean one prawn at a time.
Take one prawn in your hand and twist the head and separate it from the rest of the body.
Now gently, tug at the legs and pull them off.
Slowly, peel off the shells. Make sure that you do not break the body while doing so.
Now hold the tail and gently press, to ease out the tail from the other end.
Place the cleaned prawn in the trough of cold water.
Rinse well in the water.
Cut through the back of the prawn to reach the black vein.
Remove it since this is inedible.
Repeat washing in fresh water a couple of times.
You can begin cooking the prawns or refrigerate them for future use.
Tips to Clean Prawns
To avoid contamination, wash and sanitize the area where prawns were cleaned
Rinse prawns well to get rid of sand and other dirt from the sea that adheres to the crustacean.
Now that you know how to clean prawns, do have a look at some of the easy to prepare prawn recipes on ifood.tv and entertain your family to a delectable prawn menu tonight. 
Image credit: simplyrecipes.com/ 
How To Clean Prawns