How To Clean Lobster

10 Jun 2011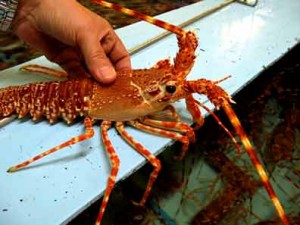 Lobsters are among the most delicious of seafood and knowing how to clean lobster would be an additional skill for all culinary enthusiasts. Here are a few tips that will help you in this task...
Requirements for Cleaning Lobsters
Gloves are handy to keep from getting hurt.
A freezer or cool water to keep lobster while waiting to clean it.
A trough of warm water.
​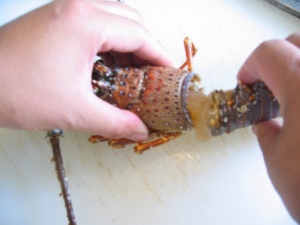 Steps To Be Followed to Clean Lobster         
Place lobster on working table.
Using your hands, pull the lobster tail twisting it one way and then the other. Hold the lobster head with the other hand.
The lobster tail gets separated.
Break the antennae of lobster halfway. Use the broken antenna to remove the digestive tract of lobster.
To do this, insert the broken piece of antenna into the posterior or anal opening of the lobster and push it right through the entire length of the tail.
The digestive tract would get pushed out from the other end.
Now, pull the antenna back towards you.
You will find some parts of the digestive tract sticking to the spines in the antenna. 
Clean the antenna and pass it through the anal opening once again.
Repeat this procedure until the pulled out antenna comes back clean.
Wash the lobster tail in warm water thoroughly.
Tips to Clean Lobster
Sanitize the entire cleaning area, sink etc after cleaning lobster.
Use disposable towels to handle lobsters.
Watch the video to pick up tips on how to clean lobster by cracking open its shell.  
Image credit: seafoodexperts.net; shizuokasushi.wordpress.com/    
How To Clean Lobster