How To Clean Fruits

9 Jun 2011
Fruits bought from supermarket needs to be cleaned well. Described here are a few steps on how to clean fruits easily to get rid of the bacteria as well as chemicals.
Requirements for Cleaning Fruits
Large bowl.
Lemon.
Salt.
Kitchen towels.
Steps for Cleaning Fruits    
Place a container in the sink.
Fill this with cool water.
Squeeze half a lemon into the water.
Add in ¼ tablespoon of salt.
Mix well with your hand.
Take each fruit and immerse in this water.
Rub the fruit with your hand inside the water. A soft brush can be used for the purpose.
Let fruit stand in water for 5 minutes.
Take fruit out of water and wash under running water.
Pat dry with kitchen towels.
Fruits can be stored safely now.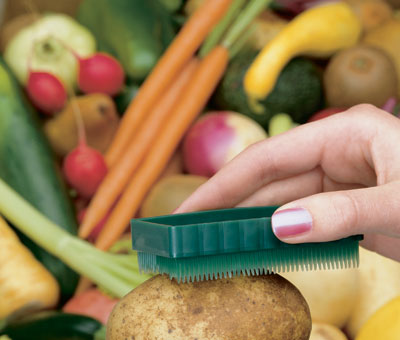 Washing fruits with lemon and salt ensures that the chemicals and bacteria are washed away. If required a sink sprayer can be used to spray away mites and other contaminants from the fruits.
Tips to Clean Fruits
Do not buy bruised fruits.
Separate the rotten ones from the fresh ones.
Do not immerse fruits for a long time in water.
Always peel fruits only after washing them
Once you know how to clean fruits properly, they can be consumed without any fear of germs or pesticides adhering to the surface.
Image credit: agriculture5.blogspot.com/; foodfashionandfun.blogspot.com/; prosalesindustries.com/ 
How To Clean Fruits