How To Clean Mushroom

9 Jun 2011
There are mixed views on how to clean mushrooms correctly. While some say that mushrooms should not be cleaned under water, others feel water is essential to clean away the soil and other contaminants that adhere to mushroom surface. Here are a few tips on cleaning mushrooms that will enable you to use the right method of cleaning these fungi…
Tools Needed for Cleaning Mushroom
Kitchen towels.
Mushroom brush.
Large bowl.
Dry Cleaning of Mushrooms                                                                                         
Mushrooms are ready to be added into stir-fries and other recipes.
Holding the mushroom gently, brush away the dirt, using a soft mushroom brush.
Wipe the mushrooms with damp kitchen towel. This step is optional.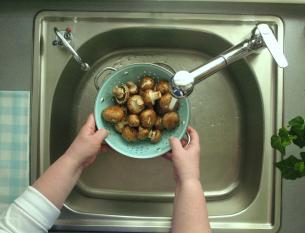 Cleaning of Mushrooms in Water
Take a bowl of water.
Immerse the mushrooms in the bowl.
Gently, swirl the mushrooms in the water to get the dirt off.
Drain the water and rinse mushroom in fresh water.
Pat dry with kitchen towels.
Tips To Clean Mushroom
Try not to soak mushrooms in water for long time.
Do not scrub the mushrooms hard, this will break them.
What method to use to clean mushroom would depend upon the recipe being used and the extent to which the fungi are dirty. If the mushrooms look fresh and clean, opt for the dry method; however is the mushrooms look muddy, then washing in water would be safer.
Image credit: startcooking.com/ 
How To Clean Mushroom