Serving Afternoon Tea

8 Jun 2011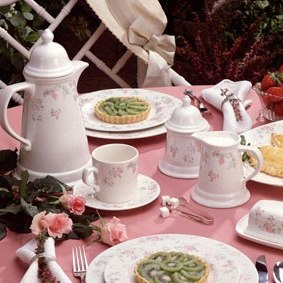 Serving afternoon tea is an informal occasion. Also known as low tea, it is served between 3pm-5pm with light snacks. If you are in confusion about the arrangements of afternoon tea party like table decorations, table items, menus etc., we bring you this article to read. Go through it and  get prepared to organize your own afternoon tea party.
Table décor
decorate the table with linens, preferably in light shades
place some flowers in the middle of the table or a natural fruit packed basket
arrange a descent room freshener so that the guests can enjoy the fresh and fragrant ambience
Although there is nothing specially official about serving afternoon tea, it is always preferred to maintain a light but cozy ambience all around.
Venue Planning
Venue planning for afternoon tea party is simple. You can arrange it on the rooftop, in the patio, in the balcony, or at near-outdoors like in the backyard lawn or in the green house of your garden. It is recommended not to use outdoor veneues in rainy season because sudden weather change may spoil the entire party fun.
Menu planning
You may include sandwiches, cookies, desserts, nuts in your afternoon tea party. as finger foods go well here. 
Egg salad, smoked salmon tea sandwich, chicken salad tea sandwich, tuna salad sandwich are some safe and popular choices in non-veg sandwich category.
You can add some cheesy sandwiches in the snack list as well. Some safe bait are cream Cheese party sandwich and gorgonzola sandwich.
Meaty sandwiches are an all time hit for afternoon tea party menu, especially in the winter season unless guests are religiously vegetarian in their food habits. Some popular options are Chicken Pate Tea Sandwiches, Bacon Delight Sandwiches, and Festive Tea Sandwiches, which is a  tasty combo of chicken, cranberries, and pecans.
You can add pastries, cookies, granola bars, chips, and wafers in the afternoon tea snacks menu as sweet dishes. Raisin scones, pudding, crumpets are safe items for tea party for year around.
Tea selection
With mouth-watering sandwiches and desserts, tea pairing should also be of best quality. Here a few quality tea options are described which you can consider while planning tea for serving at afternoon tea party.
Darjeeling tea is world famous for its savory taste and invigorating flavor.
Those who prefer slight strong liquor of tea may go for Ceylon tea or Assam tea.
in herbal tea category, mint, chamomile, rose conquer are the best options for the guests because it will boost their energy level and will enliven party ambience.
Tips to serve afternoon tea
Use best crockery: tea set must be of good quality.
Arrange for both black tea and milk tea so that the guests can have their cup of tea as per their choice
Finger foods do not require many utensils; still keep adequate bowls and plates within reach
Use extra serving plate for warm items
Arrange plenty of mineral water.
Arrange napkins, paper towel, dips, spreads, and lots of toothpicks for comfortable serving and eating.
For more information of afternoon tea table setting read this blog Table setting for afternoon tea.
That is all about serving afternoon tea arrangement. Hope it will help you in arranging next afternoon tea in your place hassle-free.
Image credit: ifood.tv
Serving Afternoon Tea