Lemon Mint Ricotta Gelato
1 Jun 2011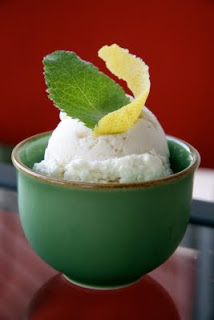 Lemon Mint Ricotta Gelato
(via iPhone Epicurious App, adapted from Gourmet, August 1993)

Ingredients
1 1/4 cups half and half (Arethusa Farm Dairy)
1 1/4 cups milk (Arethusa Farm Dairy)
15 oz. ricotta
1/2 cup sugar
5-6 fresh mint leaves (my backyard)
2-inch strip of lemon zest
2 tablespoons honey (Hannan Honey)
1/4 teaspoon vanilla
Directions
In a saucepan whisk together the half and half, milk, ricotta and sugar.
Add the fresh mint leaves and bring the mixture just to a boil, stirring.
When it just comes to a boil, remove the pan from the heat, add the lemon zest, cover the pan with the lid, and let it stand for 10 minutes.
Force the mixture through a fine sieve set over a bowl.
Stir in the honey and vanilla.
Chill the mixture until it's cold.
Then pour it into an ice cream maker and freeze according to the manufacturer's instructions. For me this took about 25 minutes.
Pack the gelato into a glass container(s) with lid and place it in the freezer for at least 30 minutes or until ready to serve.
I just garnished each serving with an extra mint leaf and a curl of lemon zest. It was slightly minty with a hint of lemon and not overly sweet. It tasted like the filling in a cannoli. Oh yes, I think we could get used to this make-your-own ice cream routine!
Lemon Mint Ricotta Gelato