Bridal Shower Table Setting
1 Jun 2011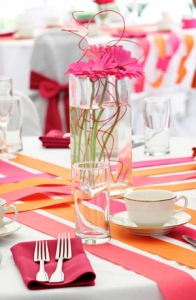 If you are hosting a bridal shower party, you must have adequate knowledge on bridal shower table setting. A nice and elegant looking bridal shower table along with a beautiful bridal shower cake can set the right mood by impressing the guests. Find the following important bridal shower table setting ideas and organize an exotic party occasion for your special guest.
3 Important Bridal Shower Table Setting Ideas
Linens
Table linens play a major role in bridal shower table setting. Rightly chosen shades and colors can brighten up the party to a great extent. Other than selecting a color of your choice, it would be more special to use the favorite color of the bride. She will get surprised and overwhelmed just after entering the room. Have proper combination of colors to choose the placemats, runners or coasters with respect to the primary shade of the tablecloth.
Centerpiece
For a bridal shower table setting, the best centerpiece idea will be the flowers. There might be hundreds of other options for the centerpiece, but nothing can match the elegance of fresh flower. Use a large vase to fill with long stemmed flowers in single or multiple colors. The bright and colorful flowers will make the bridal shower more vibrant and lively.
Dinnerware
One of the most useful bridal shower table setting ideas is to use disposable and colorful dinnerware. Disposable dinnerware in matching shades should be available in local party supply stores. Alternately, you can bring out the sophisticated china set from your closet along with sterling silver cutlery. Even the regular dinner plates can also be given a new look, by placing on decorative chargers or bright colored placemats. The same philosophy applies for selecting the glassware, too.
The final suggestion on bridal shower table setting would be to add some personal touch by folding the napkins in a unique way or hiding the gifts by some innovative means. Any kind of personal touch will make the bride happy and content.
Image Credit: dexknows.com
Bridal Shower Table Setting