Holiday Table Setting
31 May 2011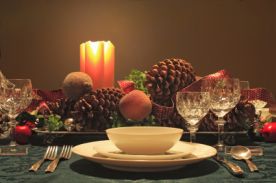 A proper holiday table setting is most essential element for enjoying your holidays with friends and family members. Holiday means good food and spending quality time in a leisurely mood. Here is some special holiday table setting ideas to brighten up your holiday mood in right spirit.
Unique Ideas on Holiday Table Setting
A holiday could be related to any common festival or could be just few days off from work. Whatever be the situation, the holiday is ideally to relax your body and rejuvenate your soul in most homely environment. So, to plan about your holiday table setting, you must keep these points in your mind.
Elegant White
Nothing can match the mood and ambience of elegant white to set up the holiday table. The combination of white linens, white placemats, white bone-china and white flowers, will be too bright for the holiday mood. You can reduce some white by removing the table linen, in case the table has nice wood or glass top. The traditional flatware and crystal glassware will add the final touch for the holiday table setting.
Combine Traditional and Contemporary
One of the most interesting holiday table setting ideas is to mix and match with traditional and contemporary setup. It might not be possible to go for a new setup for each and every holiday. So, you can use the traditional bone-china set from your mother's collection and then can add something new to compliment each other. This holiday table setting of old and new offers more informal and homely ambience than any other style.
Gorgeous Green with Gold
The holiday table setting with gold accented green can set the right tune for celebrating any formal holiday dinner. Go for green table linens along with golden table runners. Instead of fresh flowers, fill your vase with lots of green leaves and stems in variety of shades. Use white candle votives and accent all the settings with golden balls, bells and ribbons. For the dinner set, choose a traditional one to fit with the ambience.
Sparkle with Silver
When you are hosting a formal holiday dinner, silver and white can be the right choice to sparkle up the mood. You can use a touch of silver in every aspect of decoration including the table linens, dinnerware, glassware, napkin holders and candle votives - almost everything. Silver is a soothing tone to enliven the atmosphere for the ideal get-together.
Dramatic Red
The color of red can provide a dramatic look to any normal holiday table setting. You can use red in abundance, if it is a romantic holiday dinner. Otherwise, combine red with any other warm color like yellow or orange to set a bright and gorgeous mood for the evening. A bunch of red roses will act as the best centerpiece choice, when you are going with the dramatic red holiday table setting ideas.
Try out any of these above mentioned holiday table setting ideas and enjoy the best holiday of your life with your nearest and dearest ones.
Image Credit: gourmet-food-revolution.com, christmasflowersonline.com
Holiday Table Setting