Halloween Table Setting
30 May 2011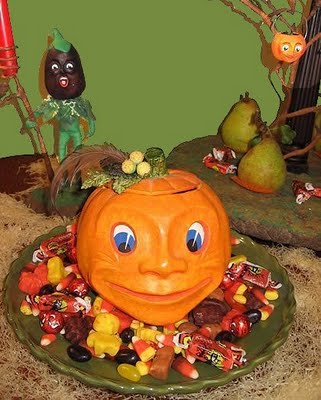 Halloween is all about fun and tricks with a spooky feeling - so you must include all these factors in your Halloween table setting. Other than the wierd looking Halloween food items, there are several Halloween table setting ideas, which will be just perfect to set the mood for this festival. Enjoy these brilliant ideas to prepare for the Halloween festival and to exhibit your creativity.
Spooky Ideas on Halloween Table Setting
Use Traditional Color Scheme
Orange and black - these two colors are being used as the Halloween colors for traditions. To get the right setup for Halloween, use these two colors abundantly. Starting from the table linens to the crockery set to the centerpiece - make use of these two colors and enjoy the ideal setup for your Halloween table.
Artificial Cobwebs
These artificial cobwebs can transform any normal table to a spooky one. Spread these on the table linens or over the centerpiece. You can also place the dinner set and the food items on these cobwebs. These cobwebs can also be prepared at home with fine, white threads.
Spooky Halloween Artifacts
Special Halloween artifacts are available in the supermarkets just before the festive days. You can use them not only to set up the table, but also to decorate your home. These artificial Halloween items like spiders, bones, pumpkin faces, skulls etc can be placed on the cobwebs to complete your Halloween table setting. You can even attach these items on different tableware items, such as wine glasses, dinner set or cutleries.
All these easy and scary Halloween table setting ideas can make your festival very special to you and your guests. You can also involve the kids to help you in this Halloween table setting project, so that they can share their creativity in this respect.
Image Credit: happy-holiday-s.blogspot.com
Halloween Table Setting