Easter Table Setting
30 May 2011
To celebrate the Easter mood properly, you should have knowledge on Easter table setting. Easter is not only a religious festival, it is also the first festival of Spring time. So, you will get plenty of natural items to give your dining table a complete makeover. Here are some innovative Easter table setting ideas, which you might like and apply for your Easter table.
Innovative Ideas on Easter Table Setting
The task of Easter table setting will become quite easier, when you select a particular theme for decoration.Other than using special table linen and Easter themed crockery and cutlery set, you should procure the following items to give a special Easter touch to the table.
Easter Eggs
Easter eggs are most essential for decorating the Easter dinning table. You can use natural eggs or plastic eggs for decorating purpose. Natural, hard-boiled eggs can be painted or decorated to place on a beautiful basket. This will create the Easter ambience. Also you can place the Easter eggs over the table or on the dinner plate, itself. If using natural eggs, then make sure to consume these within few hours. However, with artificial eggs, you can keep the decoration as long as you want.
Fresh Flowers
Easter comes with the favorite season of Spring. This is the time of the year, when you get planty of fresh flowers. Particularly, if you have a flower garden, then you can have most unique flower arrangement for your Easter table setting. A medium sized vase filled with vibrant colored fresh flowers and sufficient green - is the perfect centerpiece for your Easter table. If you don't have a garden of your own, you can always buy fresh flowers. If that too is not possible, then a bouquet of artificial flower would also solve your purpose.
Easter Bunnies
Easter bunnies are also essential for setting up the Easter table. You can have Easter bunnies in various forms like candies, cookies or artificial. Place the Easter bunnies beside your main centerpiece or use a plate to arrange all the bunnies or can place one or two edible bunnies on individual plate.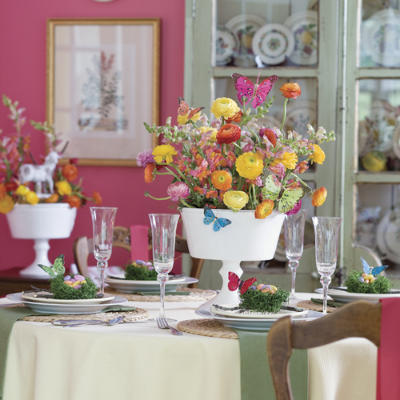 Vibrant Butterflies
To celebrate the Easter with lots of vibrant colors, use artificial butterflies in various ways. Use the napkin holder with a butterfly motif on top or place the butterfly on the stem of individual wine glass or on the side of the dinner table or even on the surface of the table. If using flowers as the centerpiece, then you can attach 1-2 pieces over the flowers, too.
Table Moss
To give a fresh and green look to your Easter table, use the table moss wherever you put the eggs or flowers or bunnies or butterflies. These table moss will give a natural green look and provide a support to the decorating items. The green color will also act as a complimentary color to the vibrant Easter table setting.
With all these brilliant Easter table setting ideas, get prepared for the next Easter to showcase your creativity and enjoy appreciation.
Image Credit: ilovetocreateblog.blogspot.com, free-extras.com, coreasotropa.wordpress.com
Easter Table Setting