How to serve mango

16 May 2011
How to serve mango? Mangoes are one of those fruits, which can be eaten in many different ways. These fruits are mainly available during the summer months and offer fresh juice with abundant energy, much required during the hot days of summer. If you are fond of mangoes, and would like to know the different ways of serving mango, this information is surely going to help you.
Washing Mangoes
You will first have to learn how to wash mangoes, when you are learning how to serve mango in the right way. Mangoes need to be thoroughly washed in ice cold water and then need to be kept in ice ideally before serving. If ice is not available these should be refrigerated or kept in a cool and dry place. When serving mango, it is best to fill individual glass dish with ice cubes or ice and then sinking the mangoes in them. This is the most preferred and authentic way to serve this juicy fruit.
Finger Bowl
Since mangoes are served in ice cold water, it might seem to be messy to pick up mangoes or to prevent your fingers from soiling. In such a case, you should serve mangoes along with a finger bowl. This is considered to be a neat arrangement.
Serving Sliced Mangoes
How to serve mango to kids, who do not like to slice off a whole mango and usually do not have so much patience too?
Serving mango slices is easy – all you have to do is to cut off the cheeks to the stone with the help of a knife and then slowly make a cross on its flesh and then bend the cheek back. Your kids or even adults can eat the mango by just biting the flesh slowly from the skin. The remaining portion of the mango can be peeled  off around the stone and then the flesh can be sucked out. This is an awesome experience and you will love to see your kids having mango in this way. Ensure that the mango is free from strings.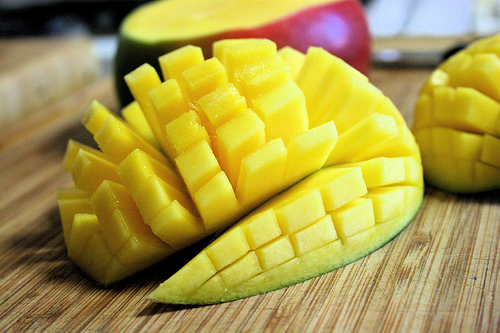 Mango With Strings
Serving mango with strings can also be interesting but remember that in such a case, you will have to use with your fingers and that too without breaking its skin. This is also a unique way to serve mango.  A hole is made in one end and then the flesh is slowly sucked out, just as an orange is sucked. The strings are all left inside in such a case. A spoon needs to be served so that it can be served easily.
Now that you know how to serve mango, relish and let your guests enjoy the mango season without worries.
Image credits: improvehealth52.blogspot.com, veganyumyum.com  
How To Serve Mango