How to serve turkey

13 May 2011
Turkey is one of those dishes which are specially served on Christmas and other special events and occasions! You might be wandering to learn how to serve turkey on such special occasions so that your guests can have the feel of having the loved turkey dish with best flavor and presenation. Here are some  easy suggestions which shall help you in serving turkey to your friends and family – whether for a family get-together or a party!
Stuffed and roasted turkey serving:
Cool the turkey:
The first thing you need to learn about how to serve turkey is how long you should cool the turkey or how long you need to wait before serving the turkey. When you have baked stuffed turkey, it takes a little longer time to cool down – let the turkey rest for as long as 20 minutes, once it is out of the oven. This shall help to keep the turkey meat soft and tender and also the meat tends to be moist enough.
Gravy:
Stuffed turkey is always served in gravy. You can prepare the turkey gravy while it is cooling down or else you can prepare it in advance too. However, the recommended way is to prepare the gravy fresh, so that its fresh flavor is retained. Herbs should be ideally used in preparing the gravy. Whole turkey can be placed on the table with the gravy or carved out turkey slices can be served in plates with the gravy.
Turkey stuffing:
While arranging turkey on a table or even on a plate, you need to ensure that the turkey is well placed in the plate. The center part of the turkey needs to be fanned out so that it is well visible and your guests, have a glimpse of what is being served. It is important that the stuffing shows up neatly while serving turkey, but be careful that the stuffing does not make the entire place or plate look dirty.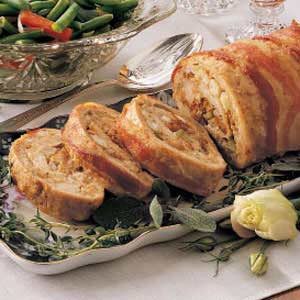 Turkey drumsticks and wings:
If you are learning how to serve turkey, you will have to learn how to serve turkey drumsticks and wings too, once they have been carved out. These are always served in a very large platter.
Dressing:
When serving turkey, it is good to lay special emphasis on its dressing so that it is not only good to eat but also good to see. You can dress up the stuffed turkey with edible garnishes which includes scallion flowers, nasturtiums, and cranberries which make it look delicious and mouthwatering.
Image credits: worldsbestcookingmenu.blogspot.com, tasteofhome.com
How To Serve Turkey