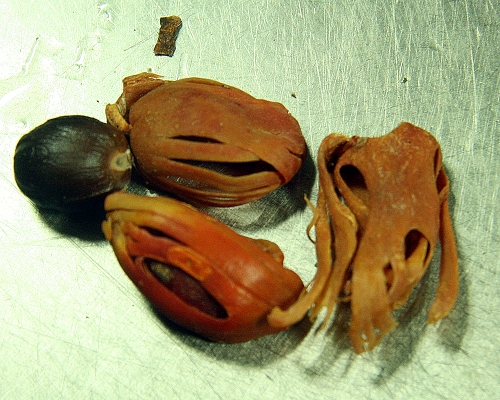 A spice, sedative or a hallucinogen in large doses, the spice native to the Spice Islands can take any form if you learn how to eat nutmeg - the sweet, aromatic and warm spice.
The nutmeg is a seed found in a fruit of mottled yellow color. The seed is covered in a net-like structure called as aril, which is commercially available as mace in the market. Beneath the aril is the pit, which reveals the oval-shaped seed called the nutmeg.
Eating nutmeg - as whole or as powder?
Nutmegs are seldom eaten raw as heavy dosage can have disastrous side-effects. Only a pinch or two of the spice is advisable for culinary use as well.

Whole nutmegs have a long storage value and since the seed's flavor deteriorates quickly the powder form is kept only for short-term use. One nutmeg can yield up to 2-3 teaspoons in the powder form.
How to powder the nutmeg?
Before you eat nutmeg as part of a great culinary preparation you should know as to which form of the spice will give the best flavor.
• You can use a nutmeg grater to grate the seed.
• Or crush the seed with a mortar and pestle.
• Or use a meat mallet to extract the essence of the spice.
How to eat nutmeg through different culinary preparations?
 • One classic way of eating the nutmeg is through the eggnog, mulled wine, Japanese wine as the spirit of grand festivities.
• Fruit cakes, honey cakes, fruit punch have nutmeg as one of their chief ingredients.
• You can also eat nutmeg with most of the egg and cheese dishes as the spice can be used as a flavoring agent in these dishes.
• The spice can also be added to stews and meat pies.
Eating nutmeg as a culinary culture
• The Dutch eat nutmeg by adding it to mashed potato, white cabbage, vegetable purees, macaroni, and meat stews and fruit puddings.
• The taste of the Italian is enhanced by adding nutmeg to dishes such as mixed vegetables, for stuffing, pasta sauce and veal.
• The Indians find varied use for the spice depending upon the region of the sub continent. South Indian Cuisine uses a pinch of grated nutmeg in the preparation of specialty tamarind sauce(sambar). Though you get to eat the nutmeg and sense its presence in many of Mughlai dishes prepared in the country.
• The Europeans render the nutmeg effect by adding the spice to sweet and savory dishes.
• The flavorful spice can be added to Scottish haggis, as a blend to Moroccan spice, and even in Middle Eastern lamb dishes.
While eating nutmeg it is important to remember that only small quantities are to be used. This applies even for its usage as a herb to reduce flatulence, vomiting, nausea, diarrhea or other symptoms.

The tips above on how to eat nutmeg as a flavorful spice and herbal prescription adds a punch of flavor and heat to your favorite dishes.
Photo Courtesy: ifood.tv