French Table Manner

13 May 2011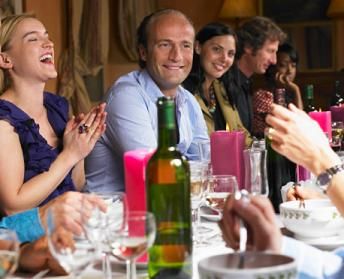 French table manners are epitome of sophistication combines with love. If followed well, French table manners with some scrumptious French food can make your date a lot more romantic. While French table manners have many formalities to follow, it is all to make your meal easy an enjoyable. Apart from a few things that are to be taken care of, rest of table manner are very much like English and American table manners. And with French cuisine getting popular, French table manners too are followed wide in the world, though with certain dilution.
Before we get into table manners there are a few things that we should know about French dining
When you are invited, you should take gift like flowers or wine bottle, for your host.
Be ready for a long dinner, as French people believing n savoring their dishes along with chit-chatting on dining table. So, at times, they give gap in two courses of meal.
And most important come on time, if delayed inform your host beforehand.
So, follow those simple yet elegant French table manners for that lovely experience on any and every occasion, making it special. Right from bringing a gift for the host to thanking the host for the meal, some small steps followed in French table manners can not only impress the host but also prove pleasant for the guest.
Listed below are French table manners, which can help make your stay in France deliciously pleasant.
In France they sit in a man-woman-man-woman arrangement, so follow this when you are invited on dining table.
One the most important of all table manners in france is that you should keep both your hands on the table, however, you should not keep your elbow. Unlike western countries, keeping hands on table is considered polite and keeping elbow on table or keeping hands on your lap is considered impolite.
Host or hostess is important. Wait for him/her to put their napkins before you do. Similarly wait for them to raise toast and clink glasses. While you clink glasses with guests, make eye contact with them.
You might be given a plate for bread or you might have to use a table napkin to keep bread. When you are served your meal, before eating break your bread into bite size pieces, do not bite from the whole bread.
Match your pace with other guests. Do not overeat the first course itself.
While you hold your knife in right hand and fork in left and put other spoons in 4 O'clock and 8 O'clock position to indicate that you have not yet finished.
Don't use knife for salad, only use fork.
Wine and water are served throughout. If you want more wine, empty your glass and you will be served more wine, and if you don't want leave your wine glass almost full.
You should wipe clean your plate if you are not provided fresh plate after every course. You should use a piece of bread with your fork and wife the plate off all the sauces. Do not use your hand to wipe.
Do not bring out unpleasant or argumentative topics like family problems, money, religion etc while you dine.
 You may eat your seafood with your hands, it is considered normal.
If at all you get confused at any point of time, you can follow your host and you will be right.
Put your fork and knife parallel in the centre of plate to indicate that you are done with your meal.
Thank your host and complement about the food, this is polite and this can also earn you good friends in a foreign place.
While French food is famous for its taste and romantic flavors, French table manners too bring out the romance in the food in its best possible way.
Photo credit: Picassa.google.com 
French Table Manner