How to serve fruits

12 May 2011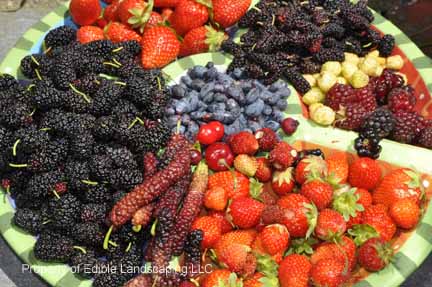 How to serve fruits as classic party staples? You may be having fruits everyday, but do you actually know the right way of having fruits? Today, ready -to- eat party  containers are easily available making it very convenient for us to buy  containers  which are not only tempting, but also quite delicious. Here are some very simple and easy ways of having fruits, which I am sure, you are going to enjoy.
Removing fruit pieces:              
Once you have bought home fruits, you need to first remove them from the plastic container and make small slices of the fruits. Serving fruits in bite size pieces makes it easy to have them. When you are learning how to serve fruits, you will learn, that big chunks of fruits are usually not preferred and especially when you are serving them as a part of a salad or even a dessert.
Shallow serving dish:         
Fruits should always be served in a shallow dish, slowly layering and fanning all the fruit pieces in the dish in a neat way. You can start with the outer portion of the dish and start placing all the fruit pieces in the serving place, slowly following the shape of the dish you have chosen. You can arrange all the fruit pieces in a single row, so the each piece of fruit slightly overlaps the other piece. Now, when you are arranging the next row, ensure that you are placing all the fruits in an inward position and follow the same pattern for the rest of the fruit slices too. You can keep placing fruit slices like this, until you find that your dish has become completely full. This is one of the basics you will get to know when you learn how to serve fruits in a shallow plate for your party.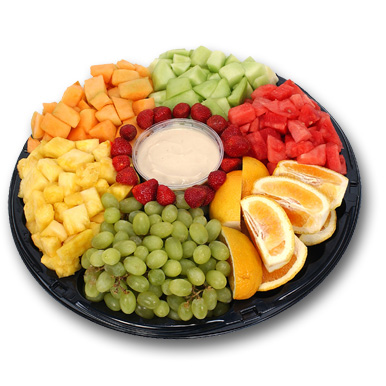 Toothpicks:                  
These are essential and shouldn't be missed or else it will be very tough for your guests to pick up fruit slices. You do not have to keep a toothpick for every piece of fruit but you should place enough toothpicks, so that everyone gets to pick at least one for a fruit slice.
Cream cheese:
It is always a great idea to serve fruits with fresh cream cheese and marshmallow fluff. You just need to combine these ingredients together and beat on low for just 3 minutes. You just need to keep them beating till they become fluffy and smooth. Once done you can fill shot glasses, ¾ up with such cream cheese and fill the rest with fruits of your choice. These glasses can all be arranged in trays and served to guests.
One important advice for all those who are learning how to serve fruits is that you should never cut fruit slices in advance as they tend to get moist and tasteless and sometimes they start developing dangerous bacteria. 
Image credits: ediblelandscaping.com, betaamentoring.wordpress.com
How To Serve Fruits