How To Serve Brandy

12 May 2011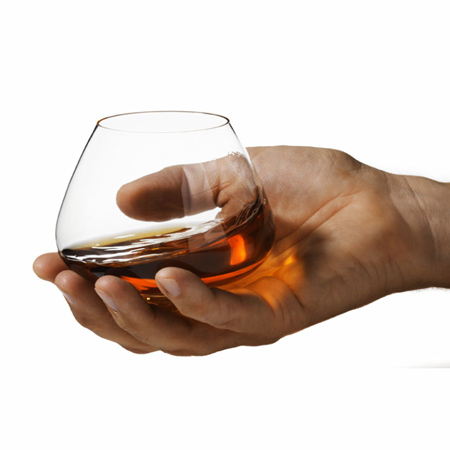 Brandy serving is the most spirited, and luxurious part of whole get together affair. To do full justice to the beverage, you need to learn some tips on how to serve brandy, and make it a win-win situation. After all, many deals are signed on that one snifter of brandy. Brandy is made from distillation of fermented fruits, and fruits could be anything from apple, to cranberries, to peach, to grapefruit. There are countless variations of brandy you can think of, and each one of them differs in taste, color, and aroma. Nothing is more warming and soothing, than one pint of brandy, especially during those spine chilling winter nights. Have a brief look on how to serve brand, and stay warm.
Serving brandy
Brandy can be either served alone, or can be measured in layered cocktails. Branding also forms the base for many chicken, and turkey recipes, making them more yummy, and irresistable.
You should use special round burgundy glasses, called snifter for serving brandy. The technical side of it could be that such glasses have tapering on the top, and are wide based at the bottom. Mow when brandy id poured, this structure of glass, allows the drink to breathe, and the upper tapering help in capturing the overall aroma of brandy.
Always add some crushed ice in the glass, before pouring brandy. Now here the twist can be, you can choose to add fruit syrup colored ice also. Next, slowly pour brandy starting from the center, and making your speed bit hasty. The amount of brandy should not look skimpy in the glass, it should cover ¼ the of glass.
Add some soda to it, to dilute the pungent taste. Carbonated drinks are also replaced with soda in some cases. People like the frizzy, and tizzy both types bubbles in their brandy glass.
Brandy can be served either alone or mixed with other premium brandy, like cognac, American Brandy, German Brandy, Accompaniment of brandy is wrm spring rolls which has been prepared in butterscotch brandy sauce.
Some people like to be served brandy with spent of lemon peel, or lemon rinds. You can even use some peach slice, or strawberry slice to decorate your brandy. However brandy is always served chilled, sometimes it can also be served warm. They are poured first in snifter to sit at room temperature. and then served.
These are some of the tips on how to serve brandy, and do not drink neat, but responsibly! 
image credit: ifood.tv
How To Serve Brandy