How To Serve Soup

12 May 2011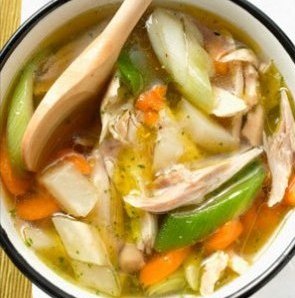 Serving a bowl full of soup is deemed to be an altruistic affair, as serving soups is like feeding heaven! Soups can be the most versatile, and fulfilling entrée in your menu. You need to know, how to serve soup in order to make the serving experience more creative, and enchanting. Soups are liquid viands, which are enriching, and quite filling. But if served in slipshod manner, they can make your palate go unpleasant, and insipid. So before people cringe at your ignorant ways of serving, it is always a good idea to get equipped with some basics of serving soup.
Soup Serving Tips
You can choose to serve soup in various ways, whether it's vintage or trendy style of serving, or smooth or creamy style of garnishing.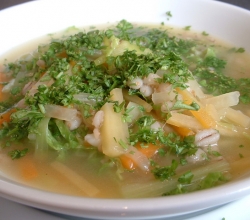 Soups can always be served with peculiarity. Different soups are served differently, so sneak peek down here to get armed about them.
Soup wares Add Style Factor
Always serve soups in large and wide stock pots. The wooden pots are quite famous for serving whopping quantity of soup to a big crowd. Stir in some smooth fresh cream superficially to make more visually tempting. Special ceramic and soup vessels are best way to serve your soup. Use tureen soup sets, coupe bowls, lugged bowls, saucer bowls, flat rimmed bowls, and cereal bowls for individual serving.
Soup Accompaniments
Soups are served and liked with toast bread sprinkled with pepper, and cumin powder. You can also serve soup with plain and slightly big slices of cheese toast.
Soup is also served with Italian pasta, scones, biscotti, and crunchy nachos. Mushroom, beets, and lettuce salad lend queer appeal to soup dish.
You can give your soup a meatier look, by adding some beef, or turkey chunks to it. Here you can boast of introducing some really frugal idea, as meat in soup should be mixed in lesser amount. Adding chicken wings to soup for a great chicken broth make you a professional in soup serving.
To make your soup taste crisp and crunchy, serve it with garlic bread, or wheat Rusk. You can even serve it with butter toasted or grilled sandwiches, which are great brunch ideas as well.
White cooked beans with sprouted peas also go well with soup serving. You can snip in some chives, parsley, and anchovies to make it more herbal. Crusty looking soups are served with nuts, peanuts, and crushed walnuts.
So, there are umpteen numbers of ways on how to serve soup. Dive in to make your soup look more enticing, and let others know about your soup serving tips! 
image credit: ifood.tv
How To Serve Soup