How To Serve Cocktails

12 May 2011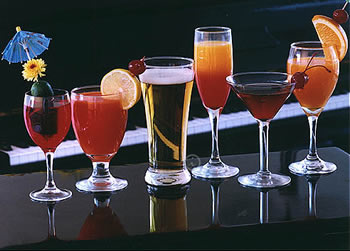 Three of the Global best  invented by America are skyscrapers, Jazz, and Cocktails. Cocktails can be a great appetizing addition to your party; therefore, it is best to know facts on how to serve cocktails. The underlying principle of making and interesting glass of cocktail is just mix, blend, sniff, and sip. There is not thumb rule of making cocktail, but right mix, and right proportion of mixers should be infused to make it raving experience. To make our party much more colorful, and glamorous, we must have sound knowledge of how to serve cocktail, and make your guests go head over heels.
Serving Cocktails
Countless variations of cocktails can be made, and served with complete respect. Delight of every youth party, cocktails can add luxury touch to your menu
. Here sure some tips of serving cocktails.
Major ingredients to serve cocktails are nothing, but ice, water, soda, and the alcohol brands you want to blend into.
You can make, smoky cocktails by using high alcohol beverages, or you can try out some mild fruity flavored cocktails, which can be appealing to people of every age.
Get some cocktail shakers, and add crushed ice to it with some sugar. Now add cranberry juice, lemon juice, or orange rinds. Shake it well for 15 seconds. Strain it into tall martini, or pint glasses. Now add the whisky, scotch, or champagne to this fruit blend.
Red Witch Cocktail
This is a popular cocktail, which has interesting blend of peanuts, almonds, cranberry, cherry, and high-end whisky. Always serve it chilled, with a dash of lemon slice or any preferred herb.
Chocolate Mix Cocktails
This cocktail can be served by adding some coffee beans into chocolate chunks, mixing, blending, and final serving with cherry triangles.
Coulee Cocktail
This can be made by orange rinds, chocolate vodka, and vanilla essence. You can serve it with rich, creamy delights of strawberry or even with ice cream.
You can always decorate, and embellish your cocktails with fruits, nuts, citrus wedges, or garnish them with small piped umbrellas, or lemon shades. You can also go for some layered cocktail mix, with dressing of colored citrus sprigs, and toothpicks.
Cocktail Glassware
Special glasses, add some purpose and magnificent touch to your cocktail party. Use tall stemmed martini glass, Champagne flute glass, and pint glasses.
These are some classic tips on how to serve cocktails, and make your party more frolicsome, and the rage of the week! 
image credit; ifood.tv
How To Serve Cocktails