How to serve salmon

11 May 2011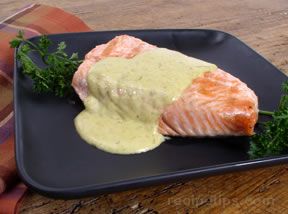 If you know how to serve salmon as a part of your main course, nothing can be better than it. Salmon is one of those items which is quite expensive, yet versatile and can really satisfy your taste buds. The deep flavors of salmon combined with sauce increases its taste and makes any delicious really very delicious. It also saves several hours of complicated cooking – any salmon dish is sure to make your guests, family or friends happy without making you toil too much.
Salmon with sauce:
This is the most common and popular way of serving salmon. Prepare a sauce of your choice with ingredients of your wish. One of my suggestions for serving salmon sauce is a lovely combination of heavy cream, low fat batter, herbs as per choice and a little salt for taste. Salmon fillets can be roasted, till they are completely cooked and then sauce can be easily poured on them. Once sauce is poured, salmon slices can be cooked for a few minutes more. These can then be served over fettuccine.
Seasoned salmon:
Do you know how to serve salmon after seasoning it well? This is one of the interesting ways of serving salmon which is quick and imparts a delicious taste to the fish. Pan sear Cajun seasons well as it cooks through very well. Salmon can be topped with sour cream, chopped green onions, salsa and guacamole and can be served with sliced beefsteak tomatoes and grilled corn tortillas.
547782-seasoned-salmon-way-to-serve-salmon.jpg1297064340
Dill:
You can whip up a dill sauce by mixing little bit of mayonnaise with fresh dill along with black pepper and Dijon mustard. To serve salmon with dill sauce, you can spread enough of the sauce on the baked salmon, while the salmon is cooking. To get the best taste of salmon, it is best to add the sauce in the last stage of baking which shall retain the flavor and taste of the salmon. Serve salmon fillets with very crispy fried potato slices which shall make it really very interesting.
Salmon salad:
This is the preferred way of having salmon, especially by those who are calorie conscious and look for healthier options with less oil and fat. If you know how to serve salmon salad, you can start your day in a very healthy way, as this makes an excellent breakfast menu item also. You can serve salmon salad with potato chunks roasted, buttered casserole, parsnips, potatoes, and a few carrots also.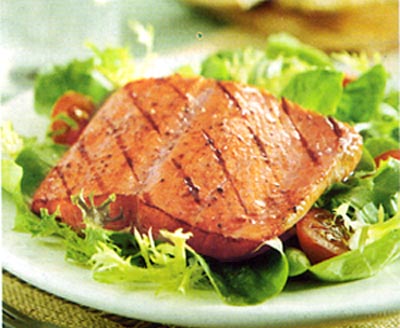 Grilled salmon:
This is a simple and very quick way of serving the fish fillets. All you have to do is grill salted salmon chunks over hot coils, before sprinkling these with fresh lemon and oregano. These can then be served with Romainne lettuce, warm pitas, and grape tomato halves.
So…what do you feel about so many ideas on how to serve salmon – worth a try?
Image credits: recipetips.com, cookstr.com 40daydetox.com
How To Serve Salmon