How to serve cheese

11 May 2011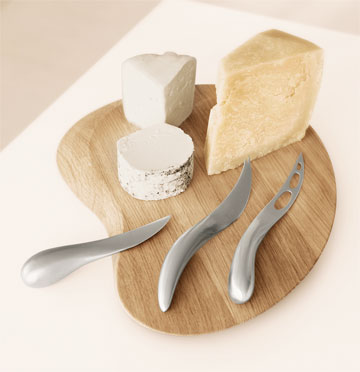 If you know how to serve cheese in style, it can be a great addition to your dinner party and your guests simply won't forget your style and innovation. Serving cheese in the right and proper manner will help you to build your repertoire of a few tried dishes. Cheese is very versatile and is bound to please anyone – provided you serve it right.
Here are some easy tips which will help you to learn how to serve cheese.
Arrange in advance
You should arrange the cheese tray several hours in advance of your dinner party, so that you can do it slowly and patiently. You can cover the cheese tray with a plastic wrap, which can be taken off just before serving. This keeps the cheese fresh and hygienic and will also give the cheese some time to slowly soften. Moreover, the flavor of the cheese shall also stay intact.
Flat Plate
Cheese should always be served in a very flat plate, so that your guests get enough space to slowly cut the cheese in a neat manner. If it is served in a small size plate, guests will have a really tough time to make slices, without making a mess. If you wish, you can also use designer wooden plates for serving cheese which are normally large in size and plain.
Cuisine
When you are learning how to serve cheese, you have to keep in mind the cuisine and ensure that your cheese compliments the cuisine. Decide the menu and other pairings which shall be served with the cheese, especially the wine.
Choosing Cheese
Serving cheese in the right way is important, but you should also ensure that you get fresh cheese from your cheese store. You will find thousands of cheese varieties and some of these might be really expensive, but this doesn't mean that all expensive cheese is good. If you are unsure, you can speak to the local staff of the cheese store and take guidance from them, along with recommendations and samples which shall help you to plan your menu.
Variety of cheese
It is also crucial to choose the right variety of the ingredient for serving. Cheese is quite similar to wine, and people usually have a specific taste related to cheese and everyone might not like the same variety. Thus, when you learn how to serve cheese, you need to learn the trick of serving the best variety of cheese so that everyone is pleased in the party. To be on the safe side, include 3-4 varieties of cheese.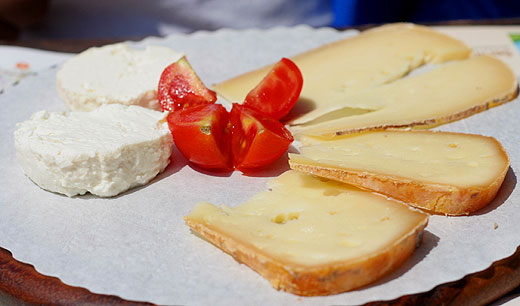 Serve quality cheese
It is very important to serve good quality cheese – this can be done by ensuring that the cheese you are serving does not have any cracks and there is no discoloration also.
Now that you have learnt how to serve cheese, do so by keeping in mind the tastes and preferences of your guests – your party is just going to be a hit!
Image credit: interiordecor.wordpress, rubbahslippahsinitaly.blogspot.com
How To Serve Cheese