How To Eat Tamarillo?

6 May 2011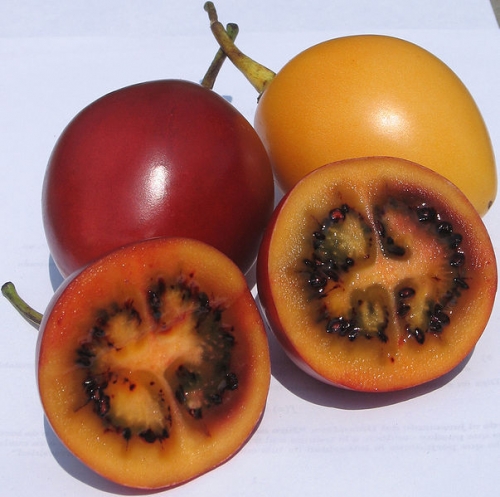 Native to South America, Tamarillos or tree tomatoes are a culinary delight for their color and flavor and exploring ways on how to eat tamarillo will help derive the nutritive punch and the sweet 'n' tart flavor of the sub tropical fruit.

The colors of tamarillos range from yellow, red to purple and the fruit is rich in vitamin C, A, E with a high content of potassium and fiber. So how to eat tamarillos to make it a culinary delight and preserve its nutrient profile at the same time?
Ways of eating tamarillos

•    Make your pick of the tamarillo. Fresh ripe ones should have no tinge of green on their skin especially around the calyx(the stem-end). The fruit should be heavy, the flesh firm and at the same time soft to touch. Depending on the need and the flavor you seek, you can choose the tamarillo. For instance, the yellow tamarillos are sweeter compared to the red and purple varieties.
•    Give the fruit a nice wash under running water.
•    If you want to eat the tamarillo flesh as is, the cut the fruit into halves and scoop out the flesh from each half of the fruit and simply eat it with a spoon.
•    For other culinary uses, the skin is removed through blanching.
 
Topping ways of eating tamarillo

•    The next time you make stewed apples , pep it up with tamarillo slices and a scoop of ice-cream.
•    If you have cut out wedges of the fruit and are wondering how to eat tamarillo wedges for the cheesy, juicy, chewy experience, serve it with a cheese board.
•    Here, cracks open another secret- Eat the tamarillo with a pinch of salt added to the fruit's slices on crackers or toast. You could top up the fruit slices with grated parmesan cheese and enjoy it as a cheesy cracker!
Juicy culinary tips for eating tamarillos

•    Meat casseroles and stews get a new zest of flavor when scooped out tamarillo flesh is added to them.
•    Another way of eating tamarillos is poaching them in red wine with a pinch of sugar and mixing it with yoghurt, for a combo of the satiating sweetness and tempting tartness  flavor.
•    Try replacing bananas and apples with tamarillos in muffins and cakes with a dash of vanilla flavoring.
•    Tamarillo pulp is used to make preserves, jams, salsas and chutneys as well
When you make a pluck of those tree tomatoes or even pick it up from the grocer's, the bright hues are definitely a feast for the eyes, which can translate into amazing flavors with our tips on how to eat tamarillo.
Photo courtesy : ifood.tv
How To Eat Tamarillo?