How To Eat Kiwifruit?

6 May 2011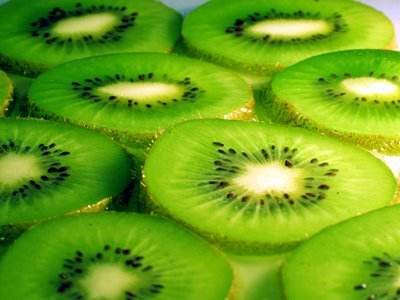 The brown, furry fruit, which can be mistaken for a sapodilla plum from a distance demands a closer look as  the fuzziness outside has much to reveal when you learn how to eat kiwifruit.  Once you cut open the fruit you see the shimmering green flesh with tiny black seeds around the core giving the impression of an intricately designed emerald necklace. Now do you want to own or eat the kiwifruit? Either one you choose, you won't feel disappointed.
 
The modern kiwifruit hails form New Zealand, though its ancestry can be traced to China.
 
Eating kiwifruit the way it can be cherished

•    The best way to eat a kiwi fruit is to cut it in such a way along its axis that splits into into two halves.
•    Take a spoon and eat the flesh from the rind scoop by scoop.
•    Or, cut it further, squeeze out the pulp of the fruit into your mouth and discard the skin.
Eating kiwifruit with its skin

Those varieties of the kiwifruit, which do not have a "fuzzy" skin, are eaten along with the skin as well. The sweet juiciness of the flesh gels well with the tart and slightly bitter flavor of the skin.
•    Simply cut open the kiwi fruit and savor the pulp of the fruit bite by bite. The seeds of the fruit are edible and can be swallowed.
•    On the  other hand, if the skin is too hairy, it is best to eat the fruit from the rind and discard the rind after that.

 
Eating kiwifruit with a culinary touch
How to eat kiwifruit through a culinary expedition?
•    A classic new Zealand dish is decorating Pavlova topped with whipped cream with kiwi fruit slices. Visual appeal goes with skin-deep flavor here!
•    Try topping yoghurt and ice cream with kiwifruit and enjoy the succulent fruit the creamy way.
•    Fruit salads get the additional punch of flavor and a boost of health quotient when kiwifruits slices are added to them.
•    Smoothies in a blend of strawberry, bananas and kiwifruits make an irresistible summer treat.
•    Jams, chutneys, sauces can also be made from kiwifruit.
•    The fruit is also used to make marmalade for certain kinds of seafood.
Enriched with vitamin C, E potassium and proteases (kind of proteins) the fruit is fortified with all the essential nutrients and knowing how to eat kiwifruit will help you savor the health benefits of the fruit.
Photo Courtesy: ifood.tv
How To Eat Kiwifruit?