How to Eat Sea Cucumber

5 May 2011
This blog focuses on how to eat sea cucumber.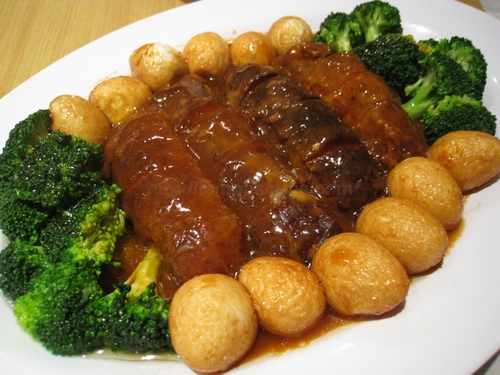 Sea Cucumber, although sounds more like sea vegetable, is actually a marine animal that is basically related to starfish family. It looks very similar to large caterpillar or even like a cucumber vegetable. Mainly used in Asian cooking, this delicious seafood has a similar flavor like clam. The process of cooking and eating sea cucumber is very easy. It is usually soaked in clean and dehydrated water before actually using in the recipe. Dried sea cucumber is also available widely in Asian supermarkets and fish stores. Below are some instructions on eating and cooking sea cucumber properly. 
Cook & Eat Sea Cucumber Properly
1. Start by taking a large pot and placing the dried sea cucumber. Fill the pot completely using cold water and cover the lid of the pot. Let the sea cucumbers soak for about 12 hours.
2. Now, heat the pot on low flame after soaking the seafood in the cold water. Simmer the flame for 1 to 2 hours. Also, keep checking the water periodically to prevent from falling below the top of the sea cucumber. You can even add some more water in case required.
3. After that, remove the pot from the heat and allow the water to cool. It is very important to let the water cool down before draining all the sea cucumber from it.
4. Cut the sea cucumber into thick pieces of 1-inch and then stir-fry. You can use a wok or a frying pan for this purpose. Also, fry the sea cucumber over medium-high heat with very little or even no oil. Pour in 2 cups of stock and add some ginger, rice wine, soy sauce, sesame oil and a little sugar to prepare a sauce. Simmer the mixture for about 30 to 45 minutes or until the sea cucumber. Lastly, add corn starch to thicken the sauce prior to serving, if required.
Tips & Warnings For Eating Sea Cucumber
1. It is always better to include some vegetables like mushrooms, shredded cabbage or pea pods to the wok while frying.
2. Secondly, you can utilize some sauces while cooking the sea cucumber. This is very important to make sure that the liquid content such as stock is enough for simmering the seafood.
3. Never ever think of skipping or reducing the soaking time of the sea cucumber, because this might leave the marine animal more tough and tight. In order to skip the soak, buy only fresh and cleaned sea cucumber. Also make sure that you use these immediately.
Now when you have learned how to eat sea cucumber, it is high time to try making this sea food delicacy at your kitchen at least once.
Image Courtesy @ ggpht.com
How To Eat Sea Cucumber