How To Eat Cherimoya?

5 May 2011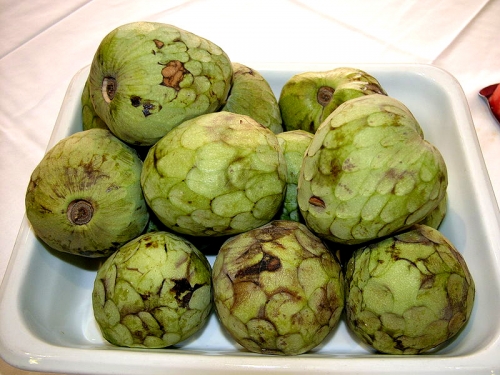 The cherimoya or the custard apple grown in subtropical climates is sown in immense health benefits and learning some ways on how to eat cherimoya will help you reap good health along with the awesome flavor.

 
The cherimoya flavor is described as a combination of that of papaya, banana, mango, passion fruit, lemon and pineapple and its texture is very much custard-like. No wonder, the name custard apple? With a nature's bounty enriching this fruit's flavor let us some ways of eating cherimoya.
Ways to eat cherimoya
Make your pick of an unripe cherimoya (with no brownish tint on its skin) and allow it to ripen at home. Ripe cherimoya should be soft to feel when pressed similar to the softness of a ripe avocado.

 

Once ripe, if you want to eat the cherimoya as a frozen delight (considering its ice-cream like texture), you can wrap it in a paper towel and place it in the refrigerator.
After 2-3 days in the refrigerator, the cherimoya is ready to be eaten.

 
Cut the fruit into halves and halves into quarters.

 

Scoop out the flesh from the rind or the skin of the cherimoya and transfer it a bowl.

 

Or instead of scooping out, simply slice the fruit and bite into the flesh (just as you would with watermelon), but remember to spit out the seeds.

 
Other ways of eating cherimoya
The cherimoya pulp can be pureed and with a bit of honey and brown sugar can be made into a dressing for fruit salads. You get a palate of flavors for fruits on a platter.

 

Cherimoya pieces can also be dunked in lemon or orange juice. This is primarily to prevent discoloration but this also renders a bit of tartness to the plethora of flavors present in the fruit, giving you a thoroughly enjoyable experience about eating cherimoya.
Scoop out the pulp of the fruit and freeze it for some time. Add cherimoya's pulp to your breakfast cereal or porridge and enjoy eating cherimoya with a healthy crunch of breakfast.

 

The next time you make desserts remember to top it up with frozen cherimoya. A vanilla ice-cream topped by a scoop of cherimoya gives the fruity tinge and also a dollop of nature's ice-cream flavor to the dessert.
From the above tips on how to eat cherimoya it is evident that are innumerable ways to eat the fruit, which shouldn't be taken for its unappealing face-value, only skin-deep to reveal a scrumptious, custard-like crunch!
Photo Courtesy: ifood.tv
How To Eat Cherimoya?