How To Eat Sardine

1 May 2011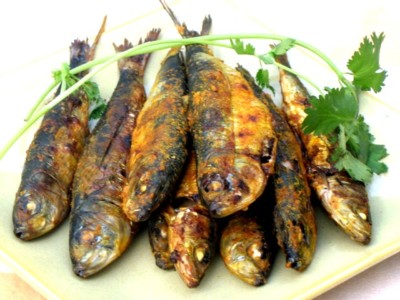 Revealing the secret of how to eat Sardine.
Sardine is one of the most neglected seafood items when we talk about special seafood main course meals. Despite of high nutritional value and great taste, this is often not considered as a popular seafood variety. Sardine is rich in various nutrients like vitamin D, vitamin B 12, selenium, phosphorus, and minerals that make it even healthier. Recently in a report, American Heart Association recommended to consume fish at least two or three times per week. Sardine is a good source of protein, omega 3 fatty acids, calcium, and therefore can be easily consumed.   
Following are some great and delicious ways of how you can include this delicious and healthy seafood in your diet:   
Canned Sardine
Canned Sardines are extremely popular when it comes to make an afternoon snack or a quick meal. You just need to drain the sardines from the can and pour in some pepper, lemon juice, and garlic. You can also add some butter on crackers. These spicy sardines are considered great as appetizers. Try to warm them using a microwave for about 30 seconds. Lastly, sprinkle some Parmesan cheese, and oregano to jazz up the flavor.
Spicy Sardine Sandwich
Start with a crunchy French roll and a can of sardines. Mash the sardines with a little mayonnaise and lemon pepper spice. Spread the mixture with a slice provolone cheese, and you have a delicious sandwich. Another sandwich idea is to start with whole grain bread, then add cucumbers, tomatoes, chopped raw spinach, and whole sardines from the can. Spread some hot mustard on the bread for a little zest.
Special Sardine Main Course Meal
Sardines for dinner can be delicious, with so many ways to fix them. You can grill them with lemon juice and olive oil. Try some curry power added to sardines with tomato sauce, and fresh garlic. Saute some onions, peppers, garlic, chopped cabbage and add sardines that have been drained, then cook until the sardines are warm. Experiment with some new spices such as basil, oregano, tarragon, and dill.
Healthy Sardine Salad
You can create a great many delicious salads with sardines. Instead of the usual canned tuna or salmon why not open a can of sardines? Chop up the sardines after draining them, chop cucumbers, red peppers, marinated artichoke hearts, and black olives and serve them on a bed of lettuce. You might add chopped broccoli, cauliflower, zucchini, and tomatoes for a little variety. Oil and vinegar salad dressing makes a tasty addition.
Image Courtesy @ onlineshoppingtenerife.com
How To Eat Sardine