List Of Healthy Snacks For Kids

30 Apr 2011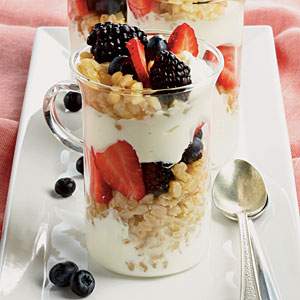 The little ones with their gust of energy can help themselves a good deal with frequent nutritive inputs and the list of healthy snacks for kids will keep them on high octane as always.
Creative healthy snacks for kids
•    Veggies with hummus dip: Vegetables have always been a fort of nutrition. Finger-length sizes of carrots, cucumbers, bell peppers, tomatoes and a mélange of vegetables, which can be eaten raw, can make its way into the list of healthy snack for kids.
•    Tortilla-turkey wraps: wheat tortilla base with a layer of lettuce, low-fat mozzarella cheese, and deli-turkey rolled and sealed tightly is kept in the refrigerator. At the time of serving cut one-inch size rolls, as a healthy way to wind up the snack session.
•    Banana smoothies: Bananas smoothies are reason enough for any child to go bananas. Blend low-fat milk with banana, a bit of cocoa powder, and other fruits such as strawberry. Serve with crushed ice.
•    Cranberry yoghurt: Granola and dried cranberries mixed with low-fat yoghurt can be a filling snack and a power-puff of energy as well (with a mix of complex carbohydrates, fruit-nutrition and the ready absorption because of the yoghurt).
•    Fruit kebabs: Take an ice-cream stick for a skewer and mount chunks of pineapple, watermelon, apple, grapes on the stick with low-fat cheese in between to "sandwich" the fruity delight. Take yoghurt as a dip for the kebabs.
•    Oatmeal mix: One snack item which tops the healthy snacks list for kids is oat. How can you pep up oats so that your child gravitates towards it? Simple. Mix it with a dash of peanut butter, top it with raisins and serve. Anything crunchier and healthier for a snack?
•    Parfait : A perfect and creative healthy snack idea for kids. Fruit slices from pears, watermelon, apples and others layered between low-fat cottage cheese with the fruity layer to top it up and served in a parfait bowl…yummy and healthy bait for children.
The list of healthy snacks for kids is a handy prop-up, when you are trying to contain the formidable energy levels which children bound around with,  and with the appeal and flavor tagged with healthy snacks, this can turn out be child's play.
Photo Courtesy : blog.betterinnovations.com 
 
List Of Healthy Snacks For Kids