How To Eat Plantain?

29 Apr 2011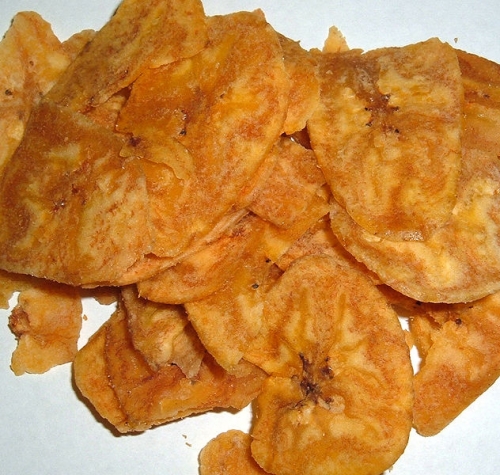 A close cousin of the banana plantains come in green pink and black varieties and if you want learn how to eat plantain , you should be conversant with cooking tips for the same.

Plantains are most popular in Indian, Latin American cooking and they taste best when cooked because unlike bananas, plantains' flesh is hard and is therefore not very flavorsome to eat it raw.
Eating plantains as a bake

•    Take your plantain one at a time and place it on a cutting board.
•    Now, slice off the two ends of the plantain.
•    If you want to remove the peel, place the plantain in a standing position and start slicing out the skin with a knife. Make sure that you leave behind a thin layer of skin as it imparts a different flavor altogether.

But if you want to eat the plantain completely shaved off its skin, then go for a thicker cut of the skin.
•    Once the skin is removed to your satisfaction, keep the plantain in a bowl containing water if its not for immediate use, or wash it thoroughly.
•    Cut the plantain into evenly sized pieces to set it for baking.
•    Take a baking dish, and coat it with a cooking spray and place the plantains in it.
•    Put it in a preheated oven at 350 degrees and bake till the plantain slices become soft.
•    Once ready, eat the plantains the way you wish to.
Tips for eating plantain, which is baked

•    Season the baked plantain slices with salt and a bit of chili powder and side it up with any savory dish.
•    The south Indian way to eat bake plantains is to allow them to simmer in tamarind sauce (prepared with traditional spices) and enjoy the tang countered by the starchy flavor of the fruit.
•    Baked plantains can also be sautéed in a little bit of oil with mustard seasoning, asafetida, turmeric to add taste to the way you eat plantains.
•    A drizzle of honey, brown sugar or rum on the plantain slices renders a sweet way to eat the fruit.
 
How to eat plantains the crispy way?

•    The peeled plantains can be diced to small piece and deep fried in oil after seasoning it with spices.
•    Thin round slices of the plantain can tossed in cooking oil and then set for baking. You get plantain chips to crunch the healthy way.
Over and above the ways mentioned on how to eat plantain, the fruit can also be a good substitute for any starchy vegetable and thus add a new flavor to your style of cooking.

Photo Courtesy : ifood.tv
How To Eat Plantain?