How To Eat Cheese Sausage

26 Apr 2011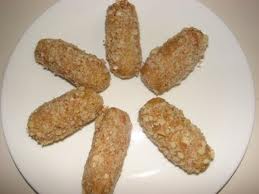 Cheese sausage is a meat sausage flavored with cheese. Even though high in calories, cheese sausages are delicious and loved by people who are fond of the cheesy flavor. Children especially are loyal followers of cheese sausages. Read on to know the right way to eat cheese sausage.
The Right Way To Eat Cheese Sausage
Prepare cheese sausages seasoned according to taste. Cook by grilling or deep frying.

Place sausages on kitchen towels to drain off excess oil if deep fried in skillet.

Place one cheese sausage lengthwise in a single, warm, whole wheat bun.

Drizzle tomato sauce, mustard or honey according to preference and take bites of sausage sandwiched between the warm folds of the bun.

Alternatively, the cooked cheese sausage can be slit lengthwise, sauce, mustard or honey drizzled between the sausage pieces, placed within a warm bun and eaten.
Interesting Recipes To Eat Cheese Sausages
Cheese Sausage Wontons - Fill crispy wonton cups with garlic, onion and cheese sausage mixture. These are great tasting appetizers and finger foods on special occasions like the Super Bowl.
Cheese Sausage Balls - Pound cheese sausages and mix with baking mix. Make small balls of the sausage mixture and bale for 15 minutes. Serve cheese sausage balls warm.
Cheese Sausage Bread - Brown cheese sausages with garlic, pepper and olive oil. Spread the cheese meat on to thawed bread. Top with cheddar and mozzarella cheese. Fold the bread lengthwise and seal the edges by pinching them together. Bake for 25 to 35 minutes at 350 degrees F.
Cheese Sausage Dip – Pound cheese sausages and mix with garlic, onion, tomatoes and cream of mushroom soup. Cook over low heat until the mixture boils. Now add Velveeta cheese and let it melt. Remove from heat and serve warm with crackers or tortillas.
Eat cheese sausage without any guilt, by exercising moderation. They can be used to make delicious dishes for occasions of all kinds.
Image credit: cook2serve.blogspot.com 
How To Eat Cheese Sausage