How To Eat Boursin Cheese

26 Apr 2011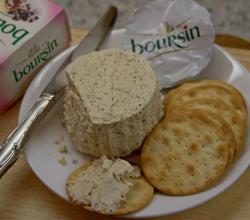 Boursin cheese is a brand of Gournay cheese, which was produced in 1957 by François Boursin in Normandy, France. Enthused by a venerable traditional dish, fromage frais (fresh cheese), in which guests could mix in their own seasoned cheese from a bowl of fine herbs just as they pleased, the expert cheese maker introduced Boursin Garlic & Fine Herbs. His creation soon became the first flavored fresh cheese to be sold throughout France. Today, more than 35 countries across 5 continents enjoy the delicious flavors of Boursin cheese. 
Flavor and Texture
Boursin has a fine line of unique gourmet cheeses with a smooth creamy texture and flavor. It is a cow's milk cheese, whitish to yellow in color. It comes in a cylindrical shape without a rind.  Boursin cheese has a distinguishing fresh and light taste with a rich, sweet, flavor and there is a rather understated hint of acidity about it. It is usually sold in a typical corrugated-foil wrapper and while it is undeniably delicious it also is extremely sinful.  This cheese has a lot of calories and therefore should be consumed only once in a while. There is also a light version now available with 64 % less calories.
Pairings
Boursin is the ideal match with a baguette. It also goes very well with almost any bread. For breakfast you could try it on a piece of grilled toast, or perhaps some raisin bread, a croissant or with some water biscuits.  Boursin cheese adds flavor to many products such as meat, seafood, fruits, and vegetables. You can use it in place of butter when making mashed potato or in sandwiches or even substitute it for sour cream in tomato soup. Boursin cheese would pair well with a dry white wine or a fruity red such as Beaujolais.
Relish These Varieties Of Bourisn Cheese
You can buy Boursin cheese in 5 flavors, - Garlic & Fine Herbs, Pepper, Shallot & Chive, Light Garlic & Fine Herbs, and Garlic & Roasted Red Pepper. It is best served at room temperature and should always be stored in the stabilized temperature drawer of the fridge.
Enjoy Boursin cheese but remember to exercise will power with the amount you indulge in.
Image credit - ifood.tv
How To Eat Boursin Cheese