How To Eat Fiddlehead Ferns

24 Apr 2011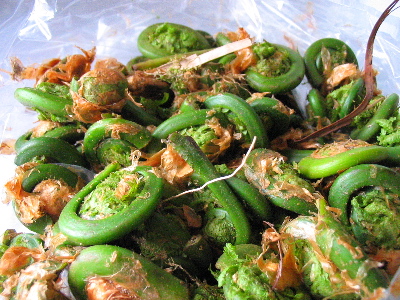 Fiddlehead ferns, the zero fat, zero cholesterol, and zero sodium veggies, are the new big thing in the world of health foods. If you are yearning to reap its health benefits but don't know how to, then, this blog on how to eat fiddlehead ferns is exactly the article you need to read.
You can eat fiddlehead ferns as a side dish or as the main dish. The can even be eaten as pasta dishes or salads.
Read on to know the various ways of eating fiddlehead ferns.
How To Make Fiddlehead Ferns Edible
The fiddlehead ferns must be collected before they mature and start uncurling. Clean fiddlehead ferns and cook them. Even though it is advisable to choose fresh ferns for cooking, you can use stored fiddleheads also. In case you are using a frozen one, thaw it before using and then clean and allow them to dry. Now, the ferns are ready to be cooked and eaten.
Exotic Ways To Eat Fiddlehead Ferns
Sauteed Fiddlehead Ferns
Sauté the fiddlehead ferns with 3 to 4 tbsp butter per pound of the ferns used. Sauté over medium heat and stir continuously till they turn tender, soft and cooked properly. You can add salt, ground pepper powder, red paprika flakes, crushed garlic pieces, bacon etc to add flavor.
Relish With Omelet/Salads
You can chop fresh fiddlehead ferns coarsely and make them part of quiche, omelets and salads.
Savor With Other Greens
You can eat fiddlehead ferns by cooking them with wild lettuces, ramps, dandelion leaves, poke as well as other greens. Choose tender fiddlehead ferns while picking them for a better flavor.
Eat As Susbtitute For Asparagus
Since these veggies have a taste very similar to that of asparagus, you can substitute fiddlehead ferns where asparagus are used.
Use Instead Of Mustard Greens
Substitute fiddlehead greens for mustard greens, turnip or poke in soups and recipes. Along with being a healthier option, it renders a delicious taste also.
Include In Soups
You can include fiddlehead ferns in the diets of people suffering from hypertension and high cholesterol levels in the form of salads or soups.
Enjoy With Morel Mushrooms
Harvest fiddleheads and cook them with them morel mushroom in white cream or white wine sauce.
Saute Blanced Fiddlehead Ferns
Blanch the fiddlehead ferns and the sauté them using butter or olive oil till they turn tender. Remove from fire and sprinkle sea salt, turmeric powder and freshly ground white pepper powder. You may add a dash of lemon to enhance the flavor.
Marinate With Vinegar
Vinegar marinated fiddlehead ferns can be used in the form of appetizers or as crunch pickles.
Eat As Pasta
Stir fry these healthy veggies to be eaten as pasta dishes. But remember you need to steam or sauté them before stir frying.
Steam & Eat
Serve steamed fiddlehead ferns warm with Maltaise sauce or Hollandaise sauce.
Take Delight With Cheese
Drizzle a little Parmesan cheese or olive oil over the steamed fiddlehead ferns and serve hot.
Relish In A SesameOil-Mayonnaise Sauce Boat
Mix 1 to 2 tbsp toasted sesame oil and 1 tbsp mayonnaise. Now add the warm fiddlehead ferns to this sauce boat and serve after sprinkling freshly toasted white sesame seeds.
The next time you harvest fiddlehead ferns, choose one of the ways mentioned above to eat fiddlehead ferns.
Image Credit: offthebone.net 
How To Eat Fiddlehead Ferns