How To Eat Strawberry?

20 Apr 2011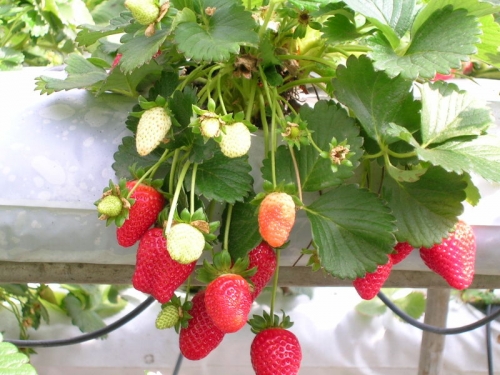 Strawberries have always remained family delights and these tips on how to eat strawberry will help you make the moments even more relishing. Read on to know more about the various ways to eat strawberry.
Eating Strawberries As The Fresh Fruit Of Nature
Before you make your pick of strawberries remember that the darkest of them(and the firm ones as well) are the sweetest.
Give your strawberries a thorough rinse under running water.
Pat dry them with a dry towel, as the wetness can lead to the formation of molds on their surface.
Take each fruit, hold it by the stem and eat the strawberry taking small bites at a time (the seeds on the surface can be eaten).
Discard the stem once the pulp is fully eaten.
Delightful, Delectable Ways For Eating Strawberries
Remove the stem of the strawberry and cut it into halves along its axis. Sprinkle each half with icing sugar and enjoy the doubly sweet treat.
With a chocolate fondue melting down with bounce and fervor, allow fresh strawberries mounted on a skewer to enjoy the drizzle and let your taste buds roll up with a chocolat-e way of eating strawberries.
Side up your pancakes with fresh strawberries and maple syrup and enjoy it as a dessert to cherish every time.
Strawberry milkshakes whipped in cream and topped with strawberry hearts is a visual treat to feast upon.
Eat strawberries with iced tea and feel refreshed with the fruity strawberry and a chilled beverage teamed up to serve the best.
Strawberry ice creams are a hot favorite to serve for the hot days of summer as a fruity frozen delight.
Use strawberries in a fruit salad or as a garnish for a dessert – ice creams, pastries etc.
Frozen strawberries made with fruits put in the freezer for an hour or two can be eaten as a scrumptious frozen snack. For long-term storage of frozen strawberries, a syrup pack is essential, which forms a sugar-coating around the berry once it is thawed.
Now that you have gotten into the heart of how to eat strawberry, savor the sweetness of nature in the most fulfilling way!
Photo Courtesy: ifood.tv
How To Eat Strawberry?