Fast Food Junks Made Nice…
"Let's meet at Joey's Fast Food", said Amelia. My eyes couldn't hold the excitement, although my mouth wanted to utter a BIG NO! This is always the case; every time I pass by my favorite fast food store down the lane, I am forcefully driven by the sight of inviting burgers, pizzas and appetizers! Before I could realize and force my legs not to stop, I would have had a quarter or more servings of my favorite bites! And that only to realize that I sinfully consumed something loaded with fat and calories.
Hey, but that's not the case now. I have learnt to give my fast food favorites a gorgeous makeover to make them as healthy as they can be!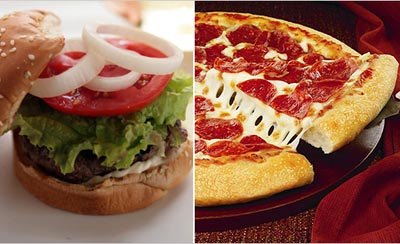 Burger! This is supposed to be my first love. Whenever I serve (or I am served) burgers, I make sure to generously garnish them with chopped vegetables. This way, I feel good about the extra nutrient power they give my body.
So are pizzas; instead of asking for extra cheese and spicy topping, I ask them to make mine with extra vegetable topping. Also, I ask for a wholewheat pizza crust so that they give me good fiber boost.
My salads are gorgeously embellished with pistachios; not until I read it somewhere they keep blood pressure in check, even under stress!
I have this indescribable affinity towards sea foods and curried shrimps in any form happen to be my favorite. Thankfully, I don't need to give that a makeover, since shrimps are said to be good source of low-fat, low-calorie protein.
Now, there are a million and more ways to justify your liking towards fast food, coz' they don't always have to be loaded with fat and calories! Do you have some tips to share?
Picture Courtesy: Topnews.in
Fast Food Junks Made Nice…