How To Eat Date

13 Apr 2011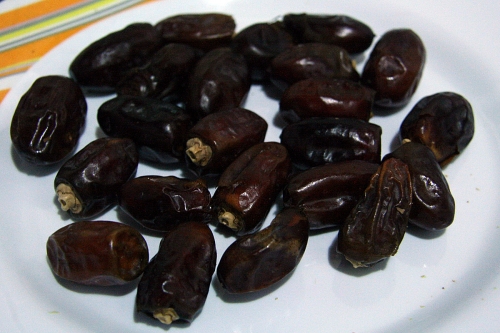 If you love a date with dates, then unraveling some methods on how to eat date can make your tryst with the fruit awesome.

You can enjoy the sweet-tooth indulgence with dates without harboring any guilt of going overboard with sugar levels as dates are a pack of nutrients and other health-yielding vital minerals. This makes it even more appealing to go dating, doesn't it?
Eating dates out of hand
Dates are best eaten out of hand. If you have the seedless variety there is absolutely no hassle, just hold it between your thumb and fore finger eat it as a whole or bite by bite.

On the other hand, if you are eating seeded dates, be sure to munch on it slowly and suck the pulp out of the seed gently with your teeth and strongly with your tongue and then spit out the seed.
How to eat dates, the stuffed, snack-y way?
Dates are so yum and compatible that you can even combine it with other dry fruits.
•    Stuffed dates make a unique dessert plate. Simply pit the dates and fill it up with pecan, walnut, almond or even peanut butter and serve dessert in mélange.
•    The medjhool variety of dates is perfect for this type of dressing considering their large size, which helps you to fill it up in assorted ways in the half-shell of the date- pistachios and cashews in one, or slivered almonds and pecans in other so on and so forth.
•    As for eating dates as snacks keep them in the fridge for two-three hours and help yourself to a bowl of chilled dates on a hot summer afternoon.
•    Add a handful of dates to a cup of yoghurt and sprinkle granola or wheat germ over it to enjoy it as a delicious snack.
Eating dates as the date puree or the date syrup
If you want to add an ounce of good health to your home-made sweet dishes or wish to have sweetened milk try making use of date syrup or date puree.

•    For the puree, you soak the dates in water  for an hour so and put it in the blender to form a smooth paste. Remember to pit them before, if they are seeded.
•    The date puree can be added to churned fresh curds with a bit of red chili powder, roasted cumin powder and can be taken as a side for many Indian dishes.
•    Date shakes are another way of eating this healthful fruit. Yoghurt and the date puree can be put in a blender to make date shakes along with fruits such as banana, pineapple, and vanilla essence etc., which is a refreshing summer drink.
•    Date syrup can also be used to top desserts or fruit salads which are whipped in unsweetened cream. You get that extra dash of sweetness by eating dates this way.
Eating dates as a garnish
The next time you want to add sugar to your porridge or cereal, try substituting it with finely chopped dates.

•    Sprinkle your porridge or cereal (hot or cold)with finely chopped dates and you get that extra munch of health.
•    Your fruit salad in a mélange of fruits can be given the finishing touch by sprinkling seedless dates at the time of serving.
•    Any milk-based sweet dish can be garnished with dates, when hot.
The next time you go dating remember these tips on how to eat dates and present yourself with that dashing sweetness that your date will meltdown to the love offered on a platter!

Photo courtesy : ifood.tv
How To Eat Date