How To Eat Custard

8 Apr 2011
It sometimes becomes necessary to know how to eat custard due to its variety of preparation styles and tastes adopted by chefs all over the world.  Here are some common interesting and unusual ways of eating custard – hope you enjoy!
You can enjoy them as:-
Dessert sauces
How to eat custard as dessert sauce? It is simple – you will need to make a dessert of your choice and to make it more enjoyable, you just need to pour the creamy custard over this dessert before serving it to your guests. You can prepare custards of different flavors which include strawberry, chocolate and vanilla.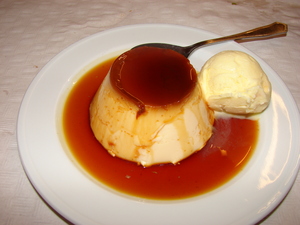 Pie
You will just have to prepare a pie shell and let it bake to turn into baked custard. This makes it perfect for kid's parties and other events when you need to make something really very innovative and you run out of ideas and considered to be one of the most innovative ways of eating custard. In case you do not have a pie crust or a shell, you will just need a round or a square shaped pan and spray the pan. You can fill the bottom section of the pan with your favorite fruits like berries. You can pour the freshly prepared custard on this, just evenly over its top. Let it bake for sometime before serving.
Fruits    
This is probably one of the healthiest ways to have custard – with fresh fruits of your choice. All you have to do is prepare flavored custard of your choice, use fresh fruits in its preparation like apples, bananas, strawberries, pineapple slices, grapes, berries and whichever fruit you are fond of and serve it after chilling a few hours in the refrigerator. Seasonal fruits can be easily eaten with fresh custard.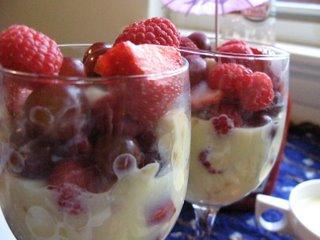 Dip
If you are wondering how to eat custard as a dip, then you will love to know, that custard makes a wonderful dip for cookies and biscuits. Prepare crunchy biscuits like ginger, oatmeal or crunchy cashew biscuits and bite small pieces of any other salted snack, by dipping it in the flavored custard which has been prepared. 
Image credits: lowcarb-diet-recipe.com, cookingmela.com, associatedcontent.com
How To Eat Custard