How To Clean Griddle
7 Apr 2011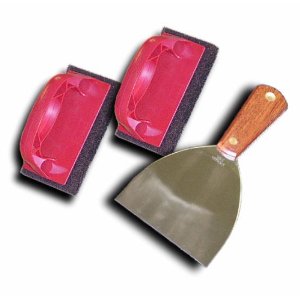 If you've even instructed someone on how to clean griddle you may not have kept in mind that all griddle plates cannot be cleaned in the same manner. Some are far easier to clean with an abrasive griddle screen or brick while the newer griddle surfaces will require  griddle cleaners and a brush. 
Always consult the manufacturer's instructions before cleaning. Here are some basic guidelines you can follow to clean your griddle.
Things you will need
safety glasses
vegetable oil
rags or a soft cloth
rubber grill mitts
scraper or spatula
grill brick
Instructions
Before you proceed its extremely important that you allow your griddle to cool. It could be dangerous if you try to clean it immediately after use. It's best cleaned when it is just a little warm.
Be extremely carefulhot oil burns instantaneously, always wear eye protection and mitts when cleaning a griddle.
Using the spatula, scrape all build up from the griddle surface. If the buildup is resistant you might need to use a metal scraper.
Smear oil generously all over the griddle to thoroughly wet it.
Use the grill brick to rub down the entire griddle until it is squeaky clean. Cover the entire surface and don't leave the nooks and crannies.
Use the spatula to scrape the black oily residue into the grease trap of the griddle
Use the rags to wipe down the entire griddle until it is free of all residue, crumbs, and oil.
Once the griddle is completely dry, use a soft cloth to smear a thin film of oil to the surface of the griddle to preserve its color and shine.
If your griddle is only somewhat grubby, you don't really need to buy a griddle specific cleanser. A quick home remedy to this would be to place an ice cube on the stubborn spots and then use a nylon mesh or a steel wool pad to scrub it once the ice has melted.
Now that you know how to clean griddle, make sure yours are always kept as good as new so you can keep making flavorful, finger licking food with it.
Image credit - stainlesssteelgriddle.org
How To Clean Griddle