How To Eat Polenta

6 Apr 2011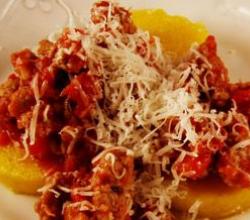 Polenta  has been popular in European and Italian cuisine but slowly the United States has also come to realize the goodness of polenta and learnt how to eat polenta.
Polenta is one dish which is so versatile that it can be boiled, fried or cooked in a microwave and it is fit to be eaten for all the meals in the day be it breakfast, lunch or dinner. Polenta can be eaten as a side dish, a meal and also as a dessert!
Now you know that polenta is a handy food item which can be eaten at any time of the day so the next question that follows is how to eat polenta?
Well, considering the versatile uses of polenta, the ways to eat polenta are also many and the food item can be prepared in so many different ways that you will not get bored of it easily, that's for sure!
Did you know that polenta is used as an alternative to potatoes and pasta in many of the dishes.
Also if you are fond of cheese, then there is another way to help you decide how to eat polenta, which is, to mix it with parmesan and other cheeses.
As a side dish, polenta can be served with lobster, salmon and other rare fishes or just simply with vegetables. Another way to eat polenta is to serve it with mushrooms and cheese.
A traditional Italian way of eating polenta is to serve it on a wooden dish with meat juice and sausages with Parmiggiano cheese. This dish is best eaten hot.
Italians also pair polenta with wine. And the most important way for them on how to eat polenta with wine is to pair it with a good quality red wine. This is eaten mainly after a morning spent in skiing.
You can also try and make an interesting appetizer out of polenta. Wondering how to eat polenta as an appetizer? All you need to do is, buy the formed kind of polenta which you get in a tube. Just slice it into thin slices, fry them in a pan and serve it with grilled chicken or meatballs or even some salmon or tofu. You can use your imagination and try hundreds of combinations to serve fried polenta.
You can enhance the taste of polenta by making a casserole or dishes along the lines of lasagna out of it. Just use some tomato sauces, add some meat, chicken, or vegetables like mushrooms, olives, zucchini and eat it whenever you want to.
Polenta can also be formed into patties and either grilled or fried and then served either with sauces or vegetables.
Another interesting way of eating polenta is to pair it with Bolognese sauce and then complete the dish with bread and a salad.
I hope I've been able to impart adequate tips on how to eat polenta. So what are you waiting for? Go ahead and indulge yourself.
Image credit: ifood.tv
How To Eat Polenta