How To Eat Cheese And Crackers
5 Apr 2011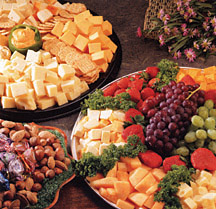 Cheese and crackers are one of the best combination snacks that can pacify your cravings without adding much to the daily calorie intake. If you are thinking of quick snack for your break, then cheese crackers is the best option to resort. Cheese and crackers are also served as best appetizers during the course of a high tea or breakfast or a light dinner.
Some of the serving suggestions for cheese and crackers are discussed below:
What kind of cheeses pair well with your crackers?
If you did ask me, I will say anything down under the sun! You can pair your crackers with a wide range of cheeses that comes in small quantities that could be cheese spreads, to firm and semi-firm to hard cheeses that will sit well on your crackers. Small cubes of cheeses are the ones that you choose from, and when you use both firm and spreads and top the cheeses with small cubes of tomatoes or ketchup or dips and eat them just like that. Some of the examples of the cheeses that could be used for toppings on a cracker will include cheddar cheese and mozzarella cheese or cheese sauce and dips. Cheese with their tangy flavor with the crackers having no or salty taste makes a great brunch or a snack.
Cracker Suggestions:
Place the cheese on top of the wide range of crackers that you will find in the market. Some of the popular crackers that are served will include rice, wheat and multigrain crackers that just melt into your mouth and are crispy, which do not fall and make a great way to gobble one piece at a time. Crackers are usually low in fat, and the popular rice crackers are gluten free and are much friendly to your tummy. While the nutritious crackers could be made of organic whole wheat or multigrain, which contains high fiber content and loads of nutrition? Crackers also come with loads of flavors like salt, plain, onion and herbs like rosemary.
Serving Suggestions:
Some of the serving suggestion for your crackers and cheese combination is to place on top of the cracker with the appropriately sized cheese and top them with sauce, which is one of the simple serving suggestions. While some of the other suggestions will include placing pieces of carrots, veggies like parsley leaves, herbs, mint chutney, tomato cubes, onion rinds, orange, fruits, dips and sauces. Therefore, next time when you are thinking of having your cheese and crackers, think of some of the suggestions given here and enjoy every bite!
Image credits: davesmarkets.com
How To Eat Cheese And Crackers