How To Eat Porridge

5 Apr 2011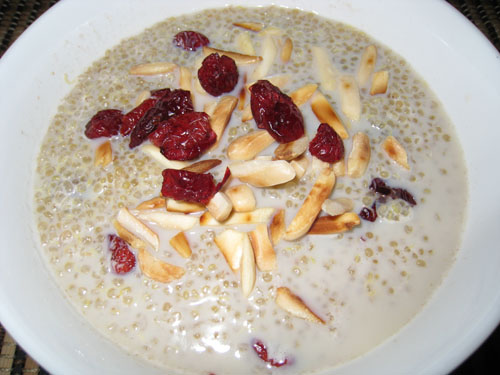 It is important to learn how to eat porridge, which is also known as congee.Its healthy nature, easy preparation and low cost involved make it simply superb meal.
How to eat porridge
Usually porridge is made using Oats but you can replace it with rice
The Oats are cooked with water; salt is added to it before serving. However the tastier version uses milk and sugar.
Porridge is not a kid friendly food, but preparing them with rich cream and honey would make Kids eat porridge. Also adding colorful fruits like strawberry, raspberry and sliced apples would lure kids to it. You can also serve with honey and nuts like almonds and walnuts. When served with chocolate spread, the bowl empties very soon. Not only kids even adults love with yummy chocolate spread.
Some like to eat porridge in thick consistency while other would prefer to have them runny. It yummy to eat porridge with plenty of sugar, but it is not a healthy option.
You can try eating porridge in Scottish way where it is cooked and served with lot of salt and little milk.
Many like to eat porridge with milk and Jam. When you plan to eat with jam, make sure that you prepare the porridge thick.
To give a different flavor to porridge sprinkle cinnamon and drizzle maple syrup or golden syrup.
Eating porridge
Sugar gives the best taste to Porridge than salt; however dieter's have to watch every calorie added to the food. So instead adding sugar eat porridge with grated apple. Apple acts as a natural sweetener and also gives a special flavor to the porridge.
Another way to turn porridge healthy is by preparing them with skimmed milk, little honey and pumpkin or sunflower seeds. 
Using Soy milk instead of milk is also best option. This was you get all the benefits of Oats and Soy.
Add your favorite fruits, nuts, syrups to your Porridge to make them tastier, on the other hand porridge becomes healthier by adding low fat milk, soy milk and fruits with less sweet. Have it in whichever way you like. Next time if any one asks you How to eat Porridge, I am sure you would offer assistance.
Image credits: cookwithquinoa.com
How To Eat Porridge