How To Eat Chicken And Waffles

5 Apr 2011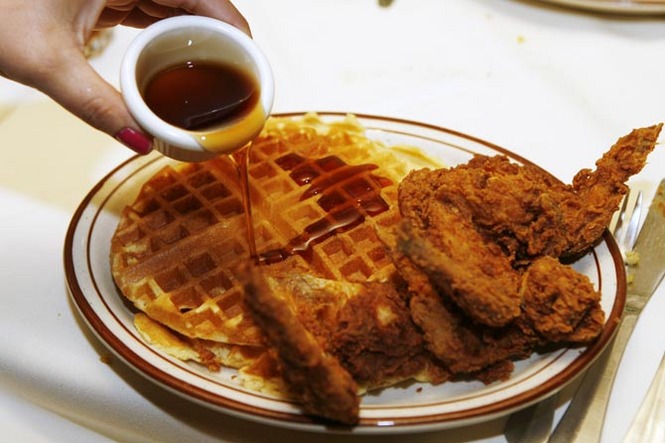 Who doesn't love to bite into a delicious serving of chicken and waffles when in need for some comfort food? But how should one go about it? Well, you may have eaten this comfort dish many a time but here is the right procedure to enjoy it correctly. At least, there is no harm in learning how to eat chicken and waffle the right way!
1. Take the chicken breast and season it with pepper, salt and olive oil.  Crushed garlic, thyme and chicken stock can also be added to it. Put it up to first boil and then simmer on heat. You can even put it all in a baking tray and into the oven. Wait till the chicken stock reduces to nothing and the pieces are cooked tender.
2. Toast the waffles using a pan and heat the syrup for toppings.
3. Remove the bone and skin from the chicken. Place the waffle in a serving plate, and keep the chicken on top of the waffle. Add a slice of bacon to the dish to give yourself some extra protein. However it is optional.
4. Finally pour a generous amount of maple syrup onto the chicken and waffle.
You can eat baked, broiled, cooked, fried or roasted chicken with the waffles. Similarly, you can use waffles of any variety to go with the chicken. Many like to eat chicken and waffle separately but there is no point in it. The salty and sweet combination of the dish is what makes it different, so you need to be true to that. If you are eating at a restaurant too, you can separate chicken from the bone and eat chicken pieces with the waffles, drizzled with maple syrup.
Image Courtesy: nj 
How To Eat Chicken And Waffles