How To Eat Meringue

4 Apr 2011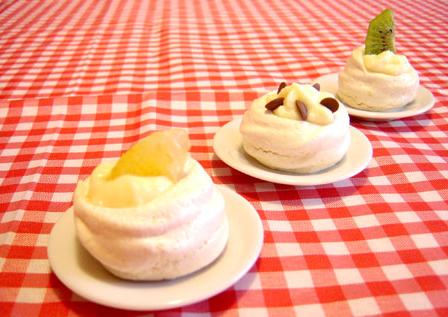 Meringues are such a great dessert that one enjoys discussing how to eat meringue. It is a lip smacking dessert prepared from sugar and whipped egg white. The whipping of the egg white and the preparation procedure makes this dessert very light and airy. As meringue is made of egg white and sugar so this delicious dessert forms a fat free food. Its chief nutrient content is protein which is derived from egg white while simple carbohydrate is derived from sugar. There are several recipes to prepare meringues, thus a same item tastes differently when prepared in different style. Many recipes require a binding agent like corn starch or cream of tartar in making meringue while some do without it and add some flavors like coconut extract, vanilla or almond. Whatever be the process adopted in making meringue, one thing is sure that eating meringue is really enjoyable as it tastes yummy.
How To Eat Meringue
Depending upon the process of preparation, meringue has been classified into three different varieties viz. French Meringue, Italian Meringue and Swiss Meringue. They all taste great and are eaten in several ways. Let's explore how to eat meringue.
Meringues can be eaten as biscuits when they are baked at low heat for a long time. Once cooked, they can be safely left in the oven as they don't get tanned instead, remain dry and crispy in it.
You can enjoy eating meringue as an ingredient in different desserts viz. angel food cake, Baked Alaska, Key lime pie, pavlova, Queen of Puddings, lemon meringue pie, and Eton mess. Generally, the meringues prepared for these desserts have slightly brown peaks that give the desserts a tempting look. To prepare such meringues, they are baked at high temperature for a short period.
The taste of meringue in the dish Meringue de Angel is awesome. It is a delicious dish made of shortbread biscuits which are layered with lemon curd and meringue. As a topping, lemon glaze is added which makes it more delicious.
There are several ways to spice the meringues and enjoy its taste. One can add chocolate chips or crumble and add some flavors while preparing meringues. All would taste great.
Thus, we have seen that there are several ways to eat meringue and as it is a fat free food so it forms everybody's first choice, even for the people on diet. It's very easy to prepare and can serve it as a sweet after a great meal. So, relish the taste of these crispy little morsels which also forms a great gift for your dear ones.
Image Credit: ifood.tv
How To Eat Meringue