How To Eat Dumplings
4 Apr 2011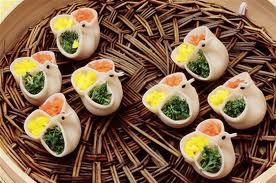 These quirky little balls of dough often come in many shapes and make you wonder how to eat dumplings? Their preparation methods may vary, namely boiling, steaming, simmering, frying , or baking but it's unanimously agreed upon that they taste scrumptious. 
Choices on how to eat dumplings
The sour dumplings made in the British cuisine are eaten with a flavored dip, usually made with cheese. If they are made sweet, they are paired with dried fruit and spices. In some places, they are also boiled with water to enhance the quality of the dessert. It's also known as clootie dumpling. These dumplings are also called as doughboys.

 
Fan of Italian cuisine? Ravioli, tortellini and gnocchi are names you would swear by if you are a lover of Italian food. Fillings for ravioli and tortellini include meat, seafood, cheese, mushrooms and spinach. Although a dumpling, gnocchi does not usually have a filling and the ingredients (potato, semolina, flour and cheese) are usually mixed with the dough. These are often dunked in pasta sauces and eaten.

 
The most widely eaten dumpling would have to be the Chinese specialty wanton. Fillings of a wanton can include meat (pork, beef, chicken – all ground), vegetables and sometimes fish. They are also called jiaozi and eaten on the Chinese New Year's Eve. Wantons are usually had with a dipping sauce. This could either be vinegar or chilli oil. Sometimes, paste and soy sauce are had with these dumplings.

 
Originated in Tibet, momo is another delicious snack which is hugely popular in this part of the world including the Himalayan kingdom of Nepal. Meat and vegetarian momos are common and they are steamed or fried according to the recipe. Momos are generally dunked in sharp chilli sauce and eaten with chopsticks.
In general, it's common for any dumpling to be eaten with gravies. They can also be eaten with soups or stews. These tiny little delicacies can be eaten easily with fork, chopsticks or just using your fingers taking it directly from the plate and dipping it in the gravy / sauce that are available.
Image Credit: tour-beijing.com
How To Eat Dumplings