How To Eat Raita
2 Apr 2011
Raita, the cooling preparation made by blending thick yoghurt with various fruits, vegetables and spices one of the most popular side dish exports from India. If you love Indian cuisine then you ougth to know how to eat raita. Read on for some easy tips ....
There are various types of raitas available, of which the most common ones are tomato and onion raitas. This dish is very popular around the world for the following reasons
The dish is cool and spicy
The dish is soothing to the mouth and refreshing to the body and mind
Gives a tangy flavor of spices and condiments, when you add one of the spices and the chillies.
Raita is of two types – sweet and sour, while the sweet is the blending of curd or thick yoghurt with fruits and sour is with vegetables. The blending of fruits with yoghurt is a common dessert served after dinner in the Western World, and the yoghurt used there is plain and thick.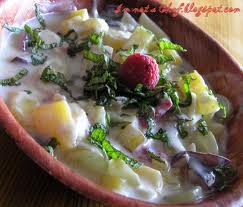 While most of the time the dish is used and eaten as a side dish, they are also popular as hot desserts depending on the choice of the vegetables you use. They are yummy with both flavored rice like biriyani and chappatis or roti. They make good toppings on wraps and tastes good with a variety of breads. They are, however, commonly served aside as curries and is used as dip for breads.
While many enjoy eating the raita as such, especially in summer, this is refreshing when served chilled, raita is the best combination dish and is usually eaten following a hot and spicy main course of the Indian food, which does much good on your tummy, preventing the formation of ulcers. Therefore, raita is served either as part of the main course, or in the second course of the food, followed by the sweet dishes, depending on whether the raita is appearing as a sweet hot and cold dessert and served in bowls with spoon. To the vegetable raitas add salt as per your taste, and for the fruit raitas, generally additional sugar for sweetness, but could be served with honey.
Image Credit: simplyrecipes.com, i-m-not-a-chef.blogspot.com 
How To Eat Raita