How To Eat Granola

1 Apr 2011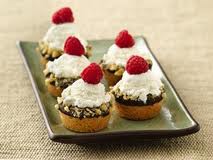 Before knowing how to eat granola, let's have a look on its food advantages; Granola, is high in vitamin E content low in cholesterol count. This healthy food is made with toasted honey mixture with oats and nuts, and different dried fruits, for obvious reason it is high in nutrients. Granola is available with different fruit combinations and flavors and for advantage goes to its wide varieties Granola can be added to diet in different ways.
How to eat granola in different ways
One of the commonest ways to enjoy granola is to consume it as a cereal adding milk in it. However, the lactose intolerant people can try it as it is. This is the simplest way to enjoy granola and it can be done without anytime in a day.
You can add ice cream or creamy yogurt as the toppings on granola. The crunchy granola keeps a tasty contrast with soft creamy yogurt or ice cream. It is tasteful and a wonderful cool snack for summer.
Granola can be added as an ingredient in fruit salads and pasta salad. With its nutty background and fruit flavor it adds a crunchy taste in salad. Great to enjoy!!!
Granola variety containing berry and almonds are wonderful variant to use them as the filler staff. You can add granola in post cooking phase in the filler staff as a dressing. It will add a special taste and some loads of nutrient by its crunchy presence.
Granola can be added at the top of muffin, or a baked apple, or a as a topping on bread dough while baking the food. You can use it on pies, waffles, pancakes, and fruit crisps as well. You can use it on fruit crumbles in lieu of sugar butter and flour, which add more nutrition in the recipe.
You can make granola bars at home and it is wonderful snack for the kids in their vacation although adults will also love it if spared.
 In home made bar you can add fruits and nuts of your choice and thus you can take a grip on its calorie count. The ingredients are unsalted butter, brown sugar, maple syrup, rolled oats, flour, and graham crackers in crushed condition, cinnamon, coconut flakes, and salt. 
Now if you ever asked how to eat granola, you have some instant out-of-the-way recipes in your hand. However sky is the limit, you can add some more recipes in the list, but please let us know also. 
Image credit: ifood.tv 
How To Eat Granola