How To Eat Calzone

1 Apr 2011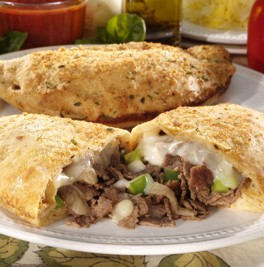 How to eat calzone is a very common question especially for those who enjoy eating it but face difficulty in holding it. It is crescent shaped and big in size so it becomes very confusing whether to eat it with fork and knife or just grab it with hands. Whatever is the way to eat it, but this is sure that calzone is very delicious in taste. It is Italian in origin and has ingredients very much similar to pizza. In general, calzone is stuffed with tomato and mozzarella and has several other ingredients which are used in pizza toppings.
Ways Of Eating Calzone In The United States
Calzone has many regional variations, so it is available with different stuffing and even in different sizes. In the US, you will find calzone stuffed with mozzarella cheese or ricotta. Vegetables, ham or salami also forms an important ingredient of Calzone in the United States. The people here prefer eating calzone with marinara sauce and some even like it with garlic topping and olive oil infusion. Thus, the way of eating calzone in US depends on the taste buds of the people as there are various ways to alter its taste and make it even more delicious. 
Eating Calzone In Different Ways
As mentioned that calzone can have variety of stuffing, so it becomes interesting to eat it in different ways. Let's see how it can be eaten so that one can enjoy its taste to the fullest.
Try calzone with different stuffing. It can be salami and pepperoni or pineapple and ham. Even sausage and green pepper tastes too good while meatball bacon and mushroom is lip smacking. Calzone goes well with all and one can enjoy its taste in different forms.
Enjoy eating it hot with marinara, it would taste great.
Calzone are very big and sloppy in nature and if you are finding it difficult to hold, use fork and knife. It's better to slice the calzone into three different parts and start with side pieces. Save the middle piece for end as it is large and if you disturb it in the beginning, you will spill the toppings.
If the calzone you are eating is not too large, hold it with your hands and start eating it without giving a second thought.
One thing to remember while eating calzone is that always have napkin by your side otherwise grease will spread over your face and sometimes even on cloth.
Thus, through the above guide you must have known how to eat calzone. So, enjoy eating it.
Image Credit: stefanofoods.com
How To Eat Calzone