How To Eat Scones?

1 Apr 2011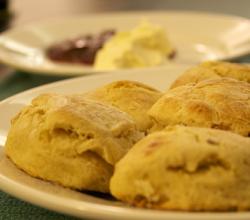 Eating scones has been most adorable breakfast tradition in UK and Scotland. It has now become hugely popular in Canada, USA, New Zea land, and other European countries due to its raving taste.  Scones are tasty alternative to biscuits and pancakes in America. 
People love snacking scones with some delicately prepared tea or coffee drinks. Scones are in general prepared from oats, barley wheat, rice crisps, and added amount of butter, baking powder and some leavening agent. It is a bit bigger them normal biscuits and is larger than round bread loaves or pancakes. The best way to serve scones is directly from oven. It is generally crumby in nature and flaky in texture. However, the nature of scones depends more on the type of preparation gone into its making. Scones eating etiquette are preserved in British elite classes, and people find it raffish to eat scones with cream tea. Let us dig into different ways of eating scones.
Distinct Ways of Eating Scones
One of most popular ways of eating scones is with spread of pineapple jam, strawberry jam with equal spread of butter or melted cheese. You can combine this with your evening tea and enjoy the refreshment with your family.
There are also some fruity appearances you can give to your favorite scones. Peel some oranges, de seed one pomegranate, cut some pineapple chunks, have some grape fruit and blue berries. Mix all this in fresh sweet cream or sweet yogurt. Top this dessert with crumbled scones in good amount. Serve it as chilled dessert to your relatives and see all those praise pouring in!
One of the simplest yet delicious entries to this section is to griddle or bake some fresh scones. Sprinkle ginger and cinnamon dust over its surface and top it with melted cheese. You can take it with some relishing aroma of green tea.
Treble the taste of scones and cream with some chocolate or cocoa chunks. You can prepare dark flaky scones with chocolate chunks dusted over it. It serves to be a great treat to your kids and chocoholic guests in return.
One of the sophisticated ways of eating scones can be to turn it into a pastry feast. Add some whipped cream to your scones. Spew it with edible glitters and finally add powdered white sugar over it. Decorate the whole recipe with colorful icing. It will take the place of your birthday cakes and will rock your party treat!
Scones are best accompaniments to tea. You can spread some jellies on the inner part of scone crumbs, add some lemon curd over it and stuff some onion with white sauce. Cover it with other part of crumb, and add liquid cream over topmost part. Enjoy the elegant taste with some nicely prepared tea. You will thank us for those inviting gestures coming your way due to scones bites!
Given so many different uses of scones eating, you are ready to take your refreshments and breakfast deal to a new level.
Image credit: ifood.tv 
How To Eat Scones?