How To Eat Colby Jack Cheese

30 Mar 2011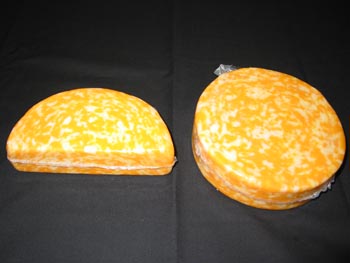 Colby jack cheese is a versatile cheese popularly used in Mexican dishes. This semi hard cheese softness can be compared to that of Mozzarella cheese. It has shiny orange  color with white marbling in it.
How to eat Colby cheese
Colby jack cheese is all purpose cheese which you can include in your cheese trays; use it in soups, sauces, sandwiches, and salads.
Pairing with foods
You can eat Colby jack cheese with dark bread, pear, and apples. Enjoy tasty grilled sandwiches with Colby jack cheese.  A bowl of sliced vegetable salad with Colby Jack cheese would taste good.
Wine Pairings
The flavored light red Sangiovese wines go well with Colby jack cheese. Syrah red wines are fruity and make a good pair with this cheese. Other wines like Riesling and chardonnay also works well.
Recipes
Salsa Mac with Colby cheese and scalloped potatoes with Colby cheese are some of tasty recipes that use this cheese.
You can get Colby Jack cheese in half moon or full moon shape that is very young with a mild flavor. You can include it in your Cheese board and serve it to your guests. Make sure to keep the appropriate knife to slice the cheese. Also place some sliced apples and pears that matches well with this cheese type. Dark breads like rye and pumpernickel are perfect match for Colby Jack. Your guests would surely enjoy the light sweet, tangy and sharp taste of Colby jack cheese.
Image credits: arenacheese.com   
How To Eat Colby Jack Cheese