How To Eat Cambazola Cheese

28 Mar 2011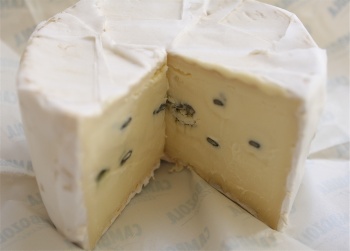 As the name suggests, Cambozola cheese is the cross breed between the French Camembert and Italian Gorgonzola. A soft ripened triple cream cheese with blue veins; a mere glance will tempt you to eat Cambozola Cheese. This German mild creamy cheese comes with a white edible rind that catches the attention of cheese lovers. You can just relish this mildly pungent cheese as you enjoy brie or camembert or just try out with crackers of your choice or even use as a substitute to the blue gorgonzola cheese.
Check out the blog for some interesting tips on how to eat Cambazola Cheese.
Tips To Enjoy Cambazola Cheese
Relish As A Snack
Try this cheese as a snack between your meals. Allow it to melt in your mouth. It keeps your full and renders quite some health benefits also.
Try With Crackers
Serve the cheese with crackers for a light evening or cocktail snack. The cheese enriches the taste of the crackers.
Use As A Spread
Relish the creaminess and saltiness of this cheese by applying it as a sandwich spread. Layer with your favorite goodies and drizzle virgin olive oil. And slowly relish the taste with each bite.
Use In Sauces & Soups
The combination of Macaroni and cheese is world famous. You can include this cheese from preparing the sauces for pasta. It enhances the texture and flavor of the dish. Use the cheese to enrich soups. Serve with a dash of salt and pepper.
Enjoy With Roasted Garlic
The combination of this cheese with roasted garlic, tomato relish and cracker bread is luscious.
Top Your Salad
Crumble the cheese and top your salad. The pungent flavor makes the salad even more delicious.
Experiment With Caramelized Onions
A baked mixture of caramelized onions and Cambozola stuffed in a mini tart shell and topped with chives will be very much in demand at your spring party.
Taste With Dried Apricot
Just whip this cheese and add a dollop on a dried apricot. Top with a toasted half pecan. It's really good!
A Perfect Dessert With Coffee
This cheese spread on bread, drizzled with dulce de leche, and broiled is a intense dessert that can be served with coffee.
The Ideal Teatime Snack
Fried Cambozola cheese balls are wonderful. Cut them into chunks, dip in flour and beaten egg, roll them in Italian seasoned breadcrumbs, deep fry, and enjoy hot. The cheese will simply ooze out of the crispy exterior.
So, get enchanted with the marvelous taste of Cambazola cheese with these simple recipes!
Image Credit: blogs.kqed.org
How To Eat Cambazola Cheese