How To Make A Fondue Meal Healthy

25 Mar 2011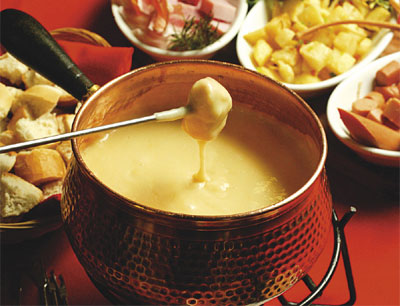 If you love fondue this is your chance to make a fondue meal healthy – so no more guilt pangs when you are having fondue. If you know the way to do so, you will truly enjoy dipping tasty morsels into a  sumptuous looking cheese pot and enjoy some high end dinner. You just need a little creativity to enjoy these meals and make them healthy also. Here are some easy tips which can help you to make a fondue meal healthy.
Festive environment:
This might sound a little weird to you initially, but creating a festive atmosphere is quite necessary to make the mood and mind healthy. Set the environment by covering the table with cloth and then serving drinks in glassware and then finding a central location for placing the fondue pot. Keep in stock two fondue pots if you are serving more than four guests - this is your preparatory step to make healthy fondue meal.
Cheese:
You can start to make a fondue meal healthy by starting with a delicious cheese appetizer. You can pour a little wine in a fondue pot, add some shredded cheese, diced peppers and minced garlic. Keep adding your loved choice of healthy low fat cheese and some great seasoning. You can easily dip bread cubes, green apple slices and fresh vegetables in this dip to make it healthy.
Green salad:
Nothing can be as healthy as a green salad. You can prepare it with your loved choice of vegetables and dressing. You can include raw vegetables or even boiled vegetables in this green salad to make it healthier such as spinach, broccoli, cauliflower cubes and fresh lettuce leaves for added taste. Adding toasted nuts, grated aged cheese and other seasonings to your salad can make it really sumptuous.
Wine:
Your healthy fondue meal is incomplete until you serve the fondue with steaming blended wine made from spices, fresh herbs, seasoned broths and fresh garlic. You can include a mouthwatering platter of cubed chicken with delicious sauce, pork tenderloin and also fillet mignon.
Meat in broth:
You can dip your cooked meat in broiling broth. This broth is slowly simmered so that the meat cooks sufficiently in the meat broth. You can cook small chicken cubes of 1 inch and cook them in the chicken broth – remember that such meat pieces takes just 5 minutes to cook.
Melted chocolate:
You can make a fondue meal healthy as well as tasty  by combining melted delicious white chocolate along with peanut butter, dessert liquor, marshmallow crème and some delicious caramel for serving as a part of fondue meal. You can also include rum and amaretto and include a platter of some fresh fruits like bananas, strawberries, pound cake and delicious brownies for a very delicious healthy fondue meal.
Image credits: thriftymystics.blogspot.com: icedteaintheafternoon.blogspot.com
How To Make A Fondue Meal Healthy