10 Mardi Gras Food's You Should Avoid

25 Mar 2011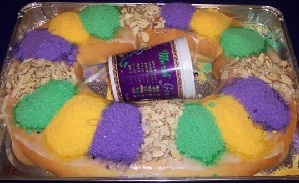 Sugar coated, deep fried, bacon wrapped, cream filled Mardi Gras food. Do such Mardi Gras food items make a healthy choice? Obviously not but that doesn't mean that the entire Mardi Gras food choices are unhealthy. Below are mentioned the most popular and traditional Mardi Gras food items that you can avoid for better health.
1. Oyster Fritters
A naturally salty treat, it becomes yummier once it is deep fried after being dipped in the batter of flour and white wine. A great treat for the taste buds but not so good for your health.
2. King cake
Mardi Gras and King Cake are synonymous. This must-have Mardi Gras food is a rich source of saturated fats that comes loaded with butter, cream, white flour and sugar. But you can choose to create a healthier version, if you are really fond of this Mardi Gras recipe.
3. Paczki
A Polish dish, Paczki are actually deep-fried doughnuts. An easy-to-make-at-home recipe, these can also be bought from grocery shops and bakeries. These devilish rich pastries are not a good option for those who are keen on maintaining their fitness levels.
4. Beignet
Yet another doughnut prepared in the French style, these deep fried doughnuts come dusted with powdered sugar. At times, these are offered as fried appetizers with meat stuffed in them. Whichever form you eat it in, you will gain weight.
5. Ramos Gin Fizz
Known commonly as New Orleans fizz or simply Ramos Fizz, this drink contains egg white, lemon and lime juices, full fat cream, sugar, orange flower water as well as soda. Healthy or unhealthy? It's your call.
6. Garlic Cheese Grits
The baked grits made using Cheddar cheese and garlic are one of the most common Mardi Gras food items from the South. Despite being baked, these grits contain at least a cup of butter and 16 ounces of shredded sharp Cheddar cheese. A not so healthy option!
7. Cajun Chicken Croquettes
There is no dispute that nothing can be as tasty and delicious as "biting into a crunchy-on-the-outside, meaty-on-the-inside-ball of deep-fried goodness". Topped with spices and herbs and some excellently marvelous dips and sauces, These croquettes are still avoidable.
8. The Great Carnival Lasagna
Italian salami, fat slices of prosciutto, Lasagna, beef, mozzarella cheese, ricotta cheese plus deep frying – this dish may make you dribble water from your mouth but if you are  health-conscious type, then you should steer clear of it.
9. Spirali alla Grappa
Grappa is made with all-purpose flour, sugar, butter and deep frying. These crunchy and sinfully rich grappas should be eaten in very limited quantities.
10. Cannoli of Carnevale
"Beautiful are the Cannoli of Carnevale, No tastier morsel in the world', said Pino Correnti. Except for the egg white, there is nothing in this dish that would make it a healthy option to choose.
Image Credit: Brithdaycakeparty.com 
10 Mardi Gras Food's You Should Avoid