How To Eat Brick Cheese

23 Mar 2011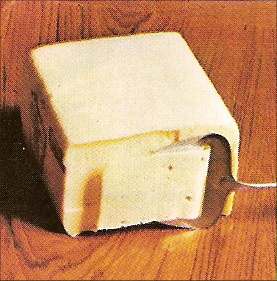 Brick cheese is the oldest cheese with an origin in the USA. It was made in 1800's in Wisconsin, USA and it derives its name from its cooking process. The cheese is produced after being pressed by bricks so it is known as brick cheese. It is thus square or rectangular in shape and is available in different colors – pale yellow to white. It is considered a soft cheese, which is rich in protein. Its fat composition is not too high and it provides 105 calories per slice.
The taste of the cheese depends on its age. It tastes sweet and mild when young, while it turns strong ripe when aged. The difference in taste makes it useful in preparing different dishes and thus there are various ways to eat brick cheese. Let's have a sneak peek on the different methods through which brick cheese can be relished and enjoyed.
The cheese is medium soft in texture which crumbles effortlessly. It sticks well to the knife and thus can be easily spread. All these properties make it highly useful in preparing sandwiches. It can be eaten by slicing over grilled sandwiches.
Brick cheeses are also eaten as appetizers. Cheese with crackers and fresh fruits is one of the best examples where the cheese is eaten as an appetizer.
In the Midwest, brick cheeses are offered along with corn polenta. As the brick cheese melts well, so it is sliced and put underneath the polenta and served with tomato sauce topping.
The taste of brick cheese can be relished in pork cordon bleu, which is prepared from this cheese.
Brick cheeses are also eaten along with macroni, broccoli and potato salad. The inclusion of the cheese in these comfort foods imparts a great taste to the food.
One can eat brick cheese in a breakfast. Cheesy spreads and breakfast stratas are few of the breakfast menus which is prepared from brick cheese.
If your brick cheese gets aged and attains sharp flavor, don't get disappointed. Add this aged cheese into any meal; it will add a good zing to it. In this way you can enjoy eating aged brick cheese also.
Eating Zucchini and brick cheese slices is another wonderful way of eating brick cheese.
You can relish the taste of brick cheese in many pizzas. Some of the tasty vegetarian pizzas with grilled Zucchini and Eggplant along with Mozzarella, Spinach, and Roasted Red Peppers have brick cheese as an important ingredient.
In this way, brick cheese can be eaten in different ways. All the above mentioned ways of eating brick cheese are great, as they taste yummy. Try them.
Image Credit: doit101.com 
How To Eat Brick Cheese